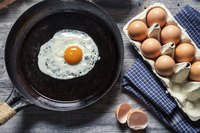 Egg yolks have a bad reputation when it comes to health, but it's mostly undeserved. Yolks actually contain more calcium, iron, zinc, vitamin A, vitamin D and essential fatty acids than egg whites. While outdated advice was to limit egg yolk consumption to only a few per week, updated guidelines from the Dietary Guidelines for Americans say eating an egg a day is OK for healthy adults. However, if you have heart disease or diabetes, you may need to limit egg yolks; ask your doctor or a dietitian for dietary guidance.
Calories and Protein
One large egg yolk contains 55 calories. Eggs don't contain carbohydrates, but they are a source of protein. Each large egg yolk has almost 3 grams of protein, or 5 percent of a man's recommended daily protein intake and about 6 percent of a woman's.
The U.S. Department of Agriculture counts one whole egg -- both the egg white and the egg yolk -- as being the protein equivalent of 1/2 ounce of nuts or seeds, 1/4 cup of cooked beans and 1 ounce of meat, seafood or poultry. To equal the protein content of one whole egg, you'd need three egg yolks.
Excellent Source of Choline
Eggs, particularly the yolks, are one of the best natural sources of choline, an essential vitaminlike nutrient your body needs to synthesize the neurotransmitter acetylcholine and the fat-based compounds in cell membranes.
Each large egg yolk contains approximately 140 milligrams of choline -- 25 percent of a man's daily requirement and 33 percent of a woman's. Egg yolks are also high in vitamin B-12, pantothenic acid, riboflavin and folate.
High in Selenium and Phosphorus
Adults need 55 micrograms of the mineral selenium each day to support immune system health and to prevent free radical compounds from damaging cellular tissue or DNA. Without enough, you may have a higher risk of cancer, heart disease or rheumatoid arthritis. An egg yolk supplies about 10 micrograms of selenium, 18 percent of the required daily intake.
Phosphorus, a mineral that's vital for strong bones and teeth and for DNA and RNA synthesis, is also found in high concentrations in egg yolks. One yolk supplies enough to fulfill approximately 10 percent of your phosphorus needs per day.
Fat and Cholesterol
Egg yolks are moderately high in fat, at 5 grams per yolk. While much of this consists of mono- and polyunsaturated fatty acids that may help lower your risk of heart disease, nearly 2 grams are saturated fat. For a healthy adult on a 2,000-calorie diet, that's around 9 percent of the recommended daily saturated fat limit. An egg yolk also contains 184 milligrams of cholesterol, 61 percent of the 300-milligram limit per day for adults from the American Heart Association.