The average American man stands approximately 5 feet, 8 inches, according to research published by the Centers for Disease Control and Prevention in 2012. This measurement fluctuates slightly based on the man's age and his ethnicity, and begins to decline as he moves into his later years. A man's genetics are largely responsible for his height, although nutrition also plays a role.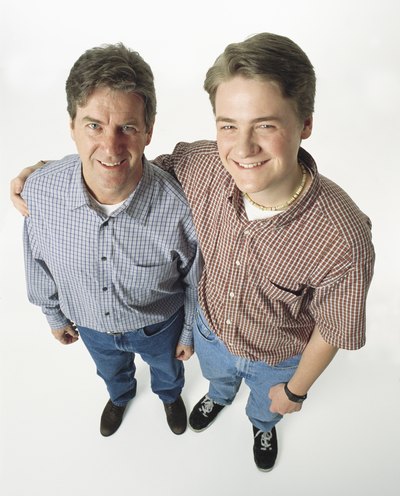 Average Male Height
Between 2007 and 2010, the CDC studied the average height and weight of American men, women and children. The study found that, on average, American males over the age of 20 stand 69.3 inches tall, which rounds up to 5 feet, 8 inches. The study, which also found that males have an average weight of 195.5 pounds, illustrates an alarming trend. These measurements give the average adult male a body mass index of 29.7, which is considered overweight and just a fraction below the threshold for obesity.
Height Varies By Ethnicity
The average height for a man in the United States over the age of 20 varies according to ethnicity. The CDC study found that white males had the highest average height, followed by black males and Hispanic males. The average results are as follows: White males: 69.8 inches, or slightly over 5 feet, 8 inches. Black males: stood 69.5 inches, or slightly below 5 feet, 8 inches. * Hispanic males: 67.1 inches, or slightly less than 5 feet, 6 inches.
Height Decreases As Men Age
Although a man's height increases from childhood through adolescence and into adulthood, his height declines as the male moves from middle age into his senior years. The CDC study found that the average male's height between the ages of 40 and 49 was 69.6 inches, or exactly 5 feet, 8 inches. This height declines steadily; by the age of 80, the average man stands 67.2 inches, or 5 feet, 6 inches.
Genetics Versus Nutrition
Your genetics play a major role in determining your height, according to a 2006 article published by Scientific American. In the article, Tufts University molecular biologist Dr. Chao-Qiang Lai reports that, while the answer is convoluted, between 60 and 80 percent of your height is the result of your genes, while the remaining 20 to 40 percent is attributed to factors such as nutrition. Although a nutrient-rich diet is important throughout your life, it plays a key role in growth in the years before puberty.