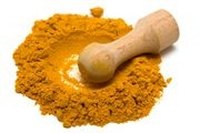 Many programs, capsules, herbs, teas, and tonics are sold online and in health food stores to detoxify the liver, but one of the safest, least expensive and highly effective detoxification remedies is the mighty yellow spice, turmeric. Turmeric has been used traditionally for culinary and medicinal purposes. Turmeric has been hailed for ages as a remedy for many ailments, and now modern research has validated the healing power of turmeric.
Why Cleanse the Liver?
With the increasing amount of toxins we take in from the food, air, and water, it's important to purify the liver of accumulated toxins to maintain proper health. The liver performs many crucial functions in your body. It filters toxins and bacteria from the bloodstream, metabolizes fats and carbohydrates, regulates the blood levels of amino acids, converts glucose to glycogen. The liver also produces bile, cholesterol, and blood plasma. Keeping the liver in optimal working condition helps to promote immune function, battle free radical damage to cells, ward off certain illnesses and fight obesity.
Curcurmin
Curcurmin is the active ingredient in turmeric that demonstrates remarkable anti-inflammatory and antioxidant properties, as well as a host of other health benefits. The Desk Reference to Nature's Medicine reports that curcumin increases the liver's bile production, which assists in the metabolism of fats during digestion and enhances the liver's detoxification process. The Desk Reference further adds that curcumin protects the liver from damage caused by alcohol and toxins.
Turmeric in a Liver Cleanse
To perform a liver cleanse with turmeric, make a turmeric tea to drink at least three times a day for seven days. Boil 2 cups of water and mix it with ½ cup of turmeric, 1 tablespoon of maple syrup, and a generous squeeze of lemon. You can also add ½ teaspoon of ginger to boost the cleansing power of the tea because ginger is also a detoxifying spice.
Other Considerations
To achieve maximum benefits from the cleanse, avoid processed foods, junk foods, canned and frozen foods, foods made with white flour, dairy, sugar, soft drinks, meats, alcohol, and tobacco. Eat plenty of whole grains and organic fruits and vegetables during the cleanse. Consider sprinkling turmeric on your cooked veggies, brown rice, whole grains, tofu, and legumes. Also, make sure you're drinking plenty of fresh, filtered water during the cleansing period to help flush out toxins.
Precautions
Although turmeric is a safe spice, consult a physician if you have gallstones, bleeding disorders, an overly acidic stomach, or are pregnant or nursing. Avoid large doses of turmeric if you are taking any medication that contains blood thinner.