Gallbladder attack symptoms in dogs are similar to those of other canine intestinal disorders. Gallbladder disease, relatively uncommon in dogs, includes conditions in which mucus accumulates in the gallbladder or an infection develops. Without prompt treatment, the latter can prove fatal. If your dog exhibits any signs of gastrointestinal issues, take him to the vet as soon as possible for diagnosis and treatment.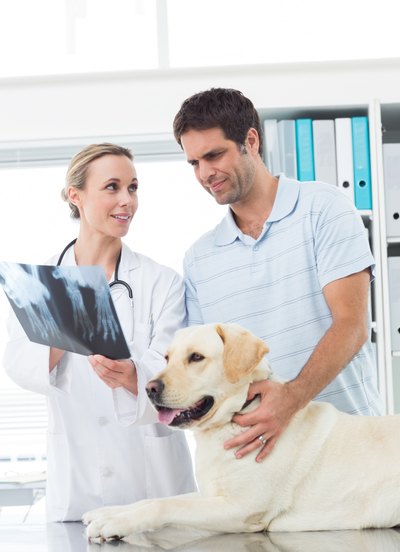 Canine Gallbladder Conditions
Your dog's gallbladder attaches to his liver, storing the digestive fluid bile. His bile duct sends bile from his liver -- where it is created -- into his gallbladder and then into his small intestine. Gallbladder mucocele occurs when the organ accumulates excessive mucus. Over time, this thick material can take over the entire gallbladder. Gallbladder mucocele often indicates an underlying disease, such as hypothyroidism or Cushing's disease. Cholecystitis, or an inflamed gallbladder, usually results from a bacterial infection originating in the intestines. While gallstones aren't the frequent problem in canines that they are in humans, gallstone obstruction can result in gallbladder rupture, which leads to peritonitis. Rarely, dogs suffer from cancer of the gallbladder or bile duct.
Gallbladder Attack Symptoms
If your dog experiences gallbladder issues, -- including gallstones or mucocele -- he will likely become jaundiced. His mucous membranes, eye whites and skin take on a yellow tone. Other common signs include vomiting, lethargy, appetite loss, fever and abdominal pain. Infection in the gallbladder can cause a dog to go into shock. If your pet displays any signs of shock, such as low body temperature, a fast but weak pulse and shallow breathing, he requires immediate veterinary attention.
Gallbladder Disease Diagnosis
The symptoms of canine gallbladder disease mimic those of other canine abdominal disorders, your vet must rule out other issues when making a diagnosis. Among the diseases with similar symptoms are pancreatitis, or inflammation of the pancreas, gastroenteritis, liver abscess and blood poisoning. Your dog will receive standard blood tests and a chemistry profile, along with X-rays and ultrasounds. If tests are inconclusive, your vet might have to perform exploratory surgery to examine the gallbladder, the liver and the bile duct.
Surgery and Prognosis
Most dogs with serious gallbladder disease undergo surgery. Canine gallbladder removal surgery, known as cholecystectomy, isn't that different from the operation that's done on people. If your dog's gallbladder issue is caught early, his prognosis should be very good and you can expect him to live a normal life span. Rather than "wait and see," if an issue such as mucocele arises, realize that it increases the risk of gallbladder rupture, which is generally fatal, and get the dog examined.
Your dog's liver can take over the gallbladder's functions, but your vet will likely recommend a lowfat diet for the rest of your dog's life. Unfortunately, many dogs are diagnosed with gallbladder disease at a point at which they are already quite sick. A very sick dog receiving a cholecystectomy has an approximately 50 percent survival rate following the surgery. If a dog lives beyond the first few days following the operation, he will generally fully recover.