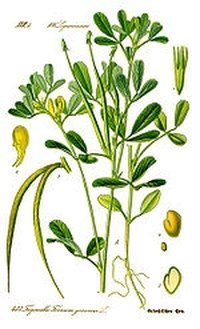 Approximately 46 million Americans have arthritis. Still more experience intermittent joint pain. If you or a loved one are among that number, you have probably tried different creams, medications, and preparations in the hope of getting some relief from the pain. You may have also wondered if there are any herbal remedies that might offer you relief. You might want to take a look at fenugreek.
Identification
Fenugreek is an herb native to countries on the eastern side of the Mediterranean Sea. People also grow it in India, England, and some Middle-Eastern and African nations. It grows to about two feet in height, and its seeds, contained in pods, are the parts of the plant mostly used for medicinal purposes. In India the leaves of fenugreek are used in cooking.
Benefits
Although the only health benefit of fenugreek that's supported by research is the possibility that it can lower blood sugar in some diabetics, it is used as a remedy for many other health concerns. These include problems involving the digestive tract such as nausea and constipation, stimulating the appetite, heart problems, a disease stemming from thiamine deficiency, various types of inflammation, and lung problems. It is also believed to increase the flow of milk in breastfeeding women.
Joint Pain
Another popular use of fenugreek is to treat joint pain. This may be explained by the presence of diosgenin. Diosgenin occurs naturally in some plants and is used in the production of cortisone and other corticosteroids, drugs which are used to treat arthritis. Practitioners of Ayurveda, India's traditional medicine, prescribe fenugreek powder mixed with water and taken two or three times a day for inflammation from sciatica and early-stage rheumatoid arthritis. Fenugreek also is used in the treatment of gout, a type of arthritis, both by eating the seeds, which are thought to reduce uric acid levels in the body, and by applying a paste made by mixing the ground seeds with warm water. Some Indian cooks also suggest preparing foods with fenugreek to take advantage of its anti-arthritic properties.
Side Effects
The side effects of fenugreek are mild, usually consisting of some digestive discomfort and possibly irritation if you apply it topically. Most people don't have any problems using fenugreek.
Warning
Fenugreek has historically been used to induce labor---and if you are pregnant, you should avoid it. There is also some evidence that it is unsafe for children. As it can also interact with some medications, you should check with your doctor before using it if you are taking any prescription medications.