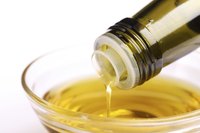 Fat isn't the enemy; in fact, it's necessary for good health. It provides energy and is needed for brain health, to make certain hormones and to absorb fat-soluble vitamins. The key is to choose nutritious fats most of the time and limit less healthy varieties. As a rule of thumb, most of the fats you eat should come from unsaturated sources such as monounsaturated fat. This type is liquid at room temperature and found in foods like nuts, seeds and vegetable oils.
Lowers Bad Cholesterol
Fat moves through your bloodstream in tiny particles called lipoproteins. High-density lipoprotein is a good form of cholesterol, while low-density lipoprotein is a bad form. The types of fat you eat influence the amount of HDL and LDL in your blood. Unlike saturated fats, which increase the level of LDL in your blood, unsaturated fat like the monounsaturated variety, help reduce LDL cholesterol. This effect benefits cardiovascular health by lowering your risk of heart disease and stroke.
Increases Good Cholesterol
HDL is called "good" because it removes excess cholesterol from your blood and delivers it to your liver for elimination. For this reason, it's beneficial to have a higher level of HDL and a lower amount of LDL in your blood. One way to increase your HDL is to eat a diet rich in monounsaturated fats and low in saturated fat, according to a study published in the December 2010 issue of the Canadian Medical Association Journal. Monounsaturated fat significantly increased HDL in patients with high cholesterol, according to the results.
Boosts Metabolism and Mood
Monounsaturated fats influence more than cholesterol, say the authors of a study the American Journal of Clinical Nutrition published in April 2013. Researchers studied the effectiveness of using monounsaturated fat to replace saturated types in the diets of two small groups of young adults. After three weeks, eating monounsaturated fats increased physical activity, boosted mood and raised resting metabolism, according to the study. Resting metabolism refers to the amount of calories you burn when you're inactive.
Dietary Fat Guidelines
Dietary fats are higher in calories than protein and carbohydrates, so it's best to limit your intake. It's recommended that you get no more than 20 to 35 percent of your calories from fat, according to the Institute of Medicine. Aside from monounsaturated fat, the other good fat is polyunsaturated. You can get these unsaturated fats from sources like avocados, fatty fish like salmon, olives, olive oil, seeds and seed oils, nuts and nut oils.