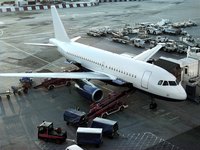 With the US Airways frequent flyer program Dividend Miles, members can redeem miles for plane tickets to anywhere in the world. For a round-trip ticket from the United States to a city in Europe such as Paris, you will have to redeem anywhere from 35,000 to 160,000 frequent flyer miles.
Miles Cost
The least expensive award ticket from the United States to Europe is the off-peak mileage saver, good for travel during some dates from mid-January to the end of February. It costs 35,000 miles per ticket for coach class and 60,000 miles per ticket in first class. The year-round mileage saver fare is not available on all flights, but when it is available, it costs 50,000 miles per ticket in coach and 80,000 miles in first class. The standard Dividend Miles award ticket costs 100,000 miles in coach and 160,000 miles in first class and is available on all flights except those falling on blackout dates (mostly Saturdays during the summer and on holiday weekends).
Additional Fees
When you are redeeming Dividend Miles for award tickets, you also will need to pay some cash fees to get your tickets. The first is an award processing fee of $50 for using frequent flyer miles to book a flight to Europe. The fee is increased to $75 if the tickets are booked within 14 days of when you will travel. There is a $40 fee if you book your ticket through an airline representative instead of online.
Earning Miles
To earn enough miles to purchase an award ticket on US Airways, you will need to travel on Star Alliance member airlines, which include Air Canada, Air China, Hawaiian Airlines, Lufthansa, Singapore Airlines, United and Virgin Atlantic. You will earn one mile in your Dividend Miles account for each mile flown, with a minimum of 500 miles earned per segment of your flight. There are also a number of other ways to earn miles, including using the US Airways credit card, booking a rental car through US Airways, dining at participating restaurants and shopping online through the Dividend Miles Shopping Mall.
Buying Miles
If you are short of having enough miles to redeem for an award ticket to Paris, one option is to buy a few miles to make up the difference. Miles can be purchased through usairways.com for 2.5 cents per mile, with a maximum of 50,000 miles purchased in each transaction. You also will be charged a processing fee of $30 per transaction for buying miles.
Active Account
If you are saving up your miles for your big trip to Paris, you should be aware that US Airways has an activity requirement on your Dividend Miles account. If 18 months have passed and you have not earned or redeemed any miles, all of your miles will be forfeited. However, you can reactivate your account for a fee ranging from $50 to $400, depending on how many miles were in your account.