A hospital transporter moves patients from one area of a hospital to another, and also delivers patient records, laboratory specimens and medical equipment. She sometimes must travel around a large medical complex. Hospital transporters are responsible for patient care and safety during transport, and usually are supervised by the nursing staff.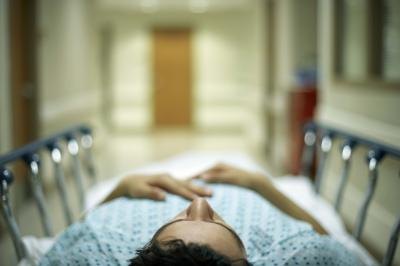 (Jupiterimages/Comstock/Getty Images)
Hospital transporters assist non-emergency patients who arrive at the hospital for an operation or other procedure. They may help the patient from a vehicle and transport him to the proper room from the hospital lobby. They assist clinical staff with moving current patients to and from beds, wheelchairs and stretchers, and with taking the patients to various areas of the hospital. After discharge, the hospital transporter escorts the patient in a wheelchair from his room to a vehicle.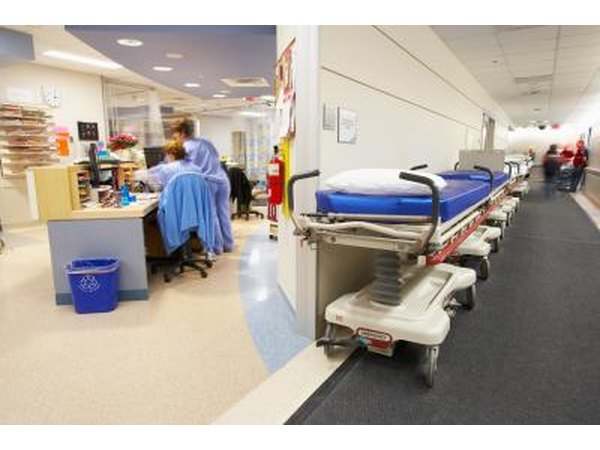 Jupiterimages/Photos.com/Getty Images
Because patients may need medical equipment with them, the hospital transporter also is responsible for safely moving this equipment. These items may include intravenous drips, monitoring devices and oxygen tanks. The patient may require this equipment when moving to or from surgery, physical therapy or to an examination room.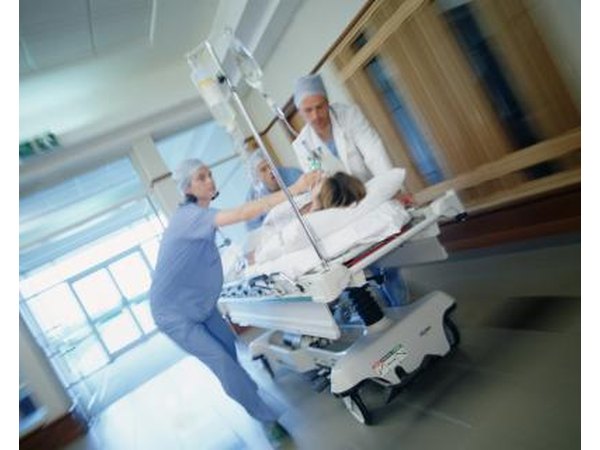 Getty Images/Lifesize/Getty Images
The hospital transporter also may be responsible for picking up and delivering lab specimens, requisitions, patient histories, charts and records. He might, for instance, bring X-rays and other images from the radiology department to a physician's office.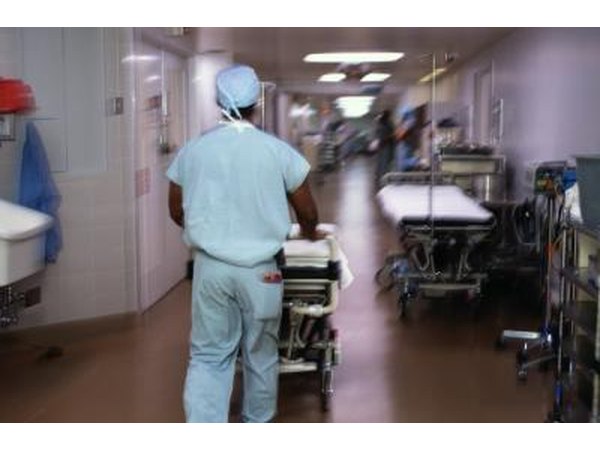 Keith Brofsky/Photodisc/Getty Images
Hospital transporters typically must have a high school education or equivalency. Some employers require a transporter to be a certified nursing assistant and be qualified to provide direct patient care. A job at a large medical complex will probably require a driver's license. A hospital transporter must be in very good physical condition because he is on his feet most of the workday, and does much walking and lifting, along with pushing of wheelchairs and equipment.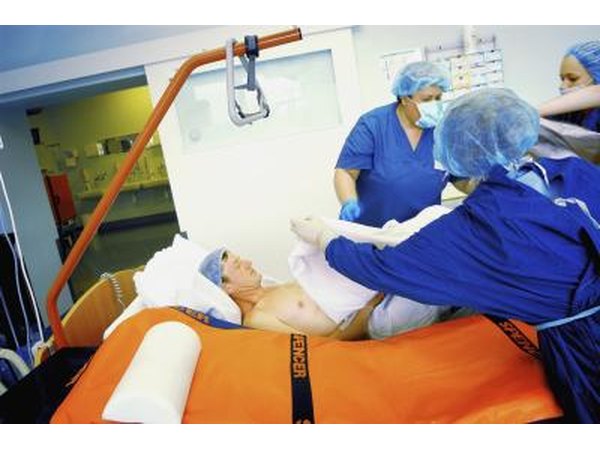 Medioimages/Photodisc/Valueline/Getty Images
According to the payscale.com salary survey website, salaries for hospital transporters as of 2009 are between $9 and $18 per hour depending on experience and location. Positions are available on all shifts and may be full time or part time. Full-time hospital transporter positions offer complete benefit packages with paid vacation and holidays, health insurance and a 401(k) plan.
Medioimages/Photodisc/Valueline/Getty Images
Promoted By Zergnet