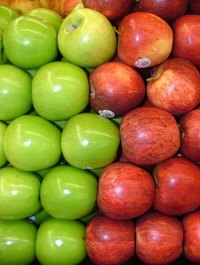 Apple trees are actually a member of the rose family, and are believed to have originated somewhere in the area of the Caspian Sea and the Black Sea. Apples provide many health benefits and can be enjoyed raw or as an ingredient in other dishes. Apples are grown worldwide; however, the United States is one of the leading apple producers in the world.
Identification
Apples come in several colors. Green, yellow, red, light pink and pinkish orange are all common colors of apples in the United States. An apple contains several seeds inside its core located in pockets. Apple seed pockets are called carpels, and there are five carpels per apple. Apples can actually contain more than one seed in each carpel depending on the health of the plant and the variety of apple. An apple seed never produces the same variety of fruit as the apple from which it comes. This is because the apple seed is actually a cross between the tree where it was grown and another tree that pollinated it.
Consumption
There are several varieties of apples grown in the United States, some of which are more favored than others. The most-consumed apples in the United States are Red Delicious, Golden Delicious, Gala, Fuji, Granny Smith, McIntosh, Rome, Idared, Jonathan, Empire, York, Cortland, Northern Spy, Rhode Island Greening and Stayman. Apples can vary in size from little bigger than a cherry to the size of a grapefruit.
Benefits
Apples are an excellent source of phytonutrients. These phytonutrients include phenolic acid and flavonoids. These nutrients protect the apple against bacteria, viruses and fungi. These benefits can be transferred into the human body when consumed. They provide antioxidants which protect against cancer and help to repair cell damage. Other benefits gleaned from the consumption of apples are the reduction in the risk of heart disease, diabetes, bacterial infections and viral infections. Apples also contain antiallergenic and anti-inflammatory properties.
Apple Producers
Most apples are produced in five different areas of the world. Besides the United States, these areas include China, Poland, Turkey and Italy. Each region produces different kinds of apples which vary in size and taste. The top apple-growing states in the United States are Washington, New York, Michigan, Pennsylvania and California. These states produce several different varieties of apples.
Uses
Only about 60 percent of a year's crop of apples in the United States is eaten fresh. Thirty-nine percent of apples are processed into other apple-based products, and 1 percent of apples never make it to the market. Apple products available include apple juice, cider, applesauce, dried apples, apple butter, apple jelly and apple cider vinegar.