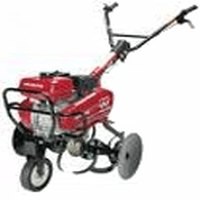 Rototilling will take many hours of backbreaking work out of preparation to plant seeds or plants in your vegetable or flower garden. Gardeners with a quite large space to plant find this process indispensable. Different types of rototillers handle different soil types.
History
Rototilling began with the first rototiller, manufactured in 1857 in Europe and steam-powered while being pulled by horses. C. W. Kelsey saw the need for a tiller for rocky American soil in 1937 and made a version fit for the home gardeners. This version, gasoline powered like the models today, was named Troy-Bilt after the town of Troy, New York where his invention took place.
Function
Instead of cutting weeds with a hoe or shovel, you can use a tiller to pull them out of the ground to be disposed of before planting your garden. Rototilling will also make short work of adding different types of soil and nutrients to your garden and working them in evenly. Tillers create a light fluffy soil, which is aerated and broken up into loam for easy planting.
Types
A rototiller has either front or rear tines, which are, angled metal arms that dig into the soil. Front tine models have the wheels in the rear, which push it along. It works well in lighter sandy soil, though when used on heavy clay soils it has a tendency to walk across the top of the ground instead of biting into the soil.
Rear tine models have the wheels in the front to pull the tiller and may have standard forward rotating tines or counter rotating tines. The counter rotating tines turn to the rear while the wheels pull the tiller forward. This type is designed to work well in heavy black or red clay and in gumbo mud due to the extra penetrating ability of the tines.
A smaller version of the front-tine model is the mini-cultivator, lightweight and maneuverable in small areas.
Benefits
A gardener can spend many days digging up soil and weeds with shovels and hoes to prepare their soil for planting. A tiller does most of the work for you and is depth adjustable to cultivate the soil as deep as you like to make taller rows that will shed water effectively. Adding additional nutrients and composts to your soil with a tiller will ensure that they are consistent throughout the garden for maximum effectiveness.
Considerations
Organic gardeners argue against the use of rototilling due to a belief that soil is a living structure and needs to be handled with care. Organic gardeners make use of all natural additions to the soil as mushroom compost and peat moss to mulch their vegetables and do not add chemical compounds of any type for fertilizers or insecticides. These items are added by gently turning the ground by hand with the traditional gardening tools of shovels, rakes and hoes.