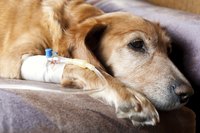 Canine distemper is a potentially deadly viral infection that attacks numerous organ systems. It's passed to healthy dogs by infected dogs through shared food bowls or bodily fluids. The infection takes hold and begins to spread within a week. Without prompt medical attention and treatment, a dog's prognosis is grim. The disease spreads quickly; aggressive medical treatment from the onset is the only way to halt its progression.
Distemper Symptoms
The first symptoms of distemper include coughing, sneezing, a thick mucous discharge from the eyes and nose and fast onset lethargy, vomiting and diarrhea. Your dog's eyes may be red; he may have a fever. Your pup may not be willing to eat or drink, and you may notice a thickening of his foot pads. Left untreated, the disease quickly will begin to damage your dog's gastrointestinal, respiratory and central nervous systems. It also will attack the conjunctival eye membranes.
Disease Progression
The earliest warning signs of distemper will progress and move into the respiratory, urogenital and gastrointestinal systems. The coughing and vomiting may escalate. It will start to attack the central nervous system, potentially causing seizures or even paralysis. Dogs with weak immune systems often succumb to the illness within a few weeks of infection. On average, half of adult dogs and 80 percent of puppies who contract distemper will die from it.
Diagnosis and Treatment
The symptoms of distemper mimic many other conditions, so your vet must take a holistic approach to evaluating your dog's overall health, medical history and symptoms. He may conduct biochemical tests and a urinalysis to assess immune system function. If the disease progresses, X-rays may be used to check for signs of pneumonia and MRIs may be employed to look for brain lesions. There is no "cure" for distemper. Your vet may prescribe antibiotics to protect against secondary infection; IV fluids may be used to keep your dog hydrated and nourished. Your dog's eyes and nose should be kept clear. Your vet may prescribe phenobarbital and potassium bromide to help with seizures and convulsions. The best outcome is for your dog to build up an immune response to combat the infection. Even dogs who recover may suffer nervous system disorders later in life.
Prevention Methods
Vaccinate your dog with a series of distemper shots and keep him away from strays or nonvaccinated animals until your vet says his immunity is formed. Young dogs and puppies are most susceptible to contracting distemper, especially nonvaccinated animals who were born to sick mothers. Stray dogs, shelter dogs and pet store pets often see a high rate of infection. When adopting an animal, always ask about vaccination history and previous medical care.