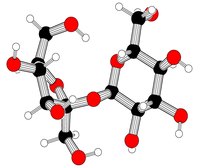 Sucrose is the technical name for common table sugar. It is available for purchase in many forms, and in moderation is a good sweetener. However, it can be overused. Sucrose intake should be evaluated carefully. People with health risks like insulin resistance or hypoglycemia may want to avoid the use of sucrose. Sucrose is found naturally in many foods in the form of fructose.
Sucrose
Sucrose is easily identified as the white granulated substance found in most kitchens. Sucrose is extracted from either the sugar cane plant or from sugar beets. Sucrose can be raw, or refined. In the raw form it often has a slight beige appearance. Sucrose is the most plentiful organic chemical in the world. It is found in its various forms in most supermarkets and health food stores.
Composition
Sucrose is a complex carbohydrate. Complex carbohydrates are identified by the linking of two or more simple sugars. Sucrose is also a disaccharide. This means that the chemical makeup of the sugar disaccharide is a bond between one carbon of sugar and a hydroxyl group. This bond can be formed on any point of the sugar molecule.
Sucrose is equivalent to one glucose and one fructose. This mixture of glucose and fructose is called an invert sugar. This is because during the hydrolysis process that converts sucrose to a glucose fructose mixture, the mixture inverts or rotates.
Bees actually are able to convert the sucrose mixture into a glucose fructose mixture when they make honey
Processing
Sugar cane is processed by extraction. The juice is processed by being boiled. It is boiled until it thickens and the sugar crystallizes. The sugar is then spun in a centrifuge in order to remove the syrup. This product is raw sugar, so it still has some impurities. The product is then shipped to a refinery where the impurities are removed. After the impurities are removed, the sugar is dried and packaged as refined sugar.
The sugar beet processing process is much like that of sugar cane. However, processing is achieved in one continuous progression. There is no raw sugar stage. The beets are cleaned, cut into pieces, and then soaked in hot water. This separates the sugar from the beet juice. The juice is then purified, filtered and made into a concentrate. After this process is complete, the concentrate is left to dry through a process similar to that of the sugar cane plant.
Fruit
There are many fruits that contain a high amount of natural sugars. These fruits should be eaten in moderation by people who have an intolerance to sugar or are suffering from diabetes or any other blood glucose problems.
Dates have the highest amount of sugar of any fruit; however, they have many health benefits. They should be eaten in moderation. Other fruits that contain a large amount of sugar, 15 grams or more per serving, include bananas, figs, grapefruit, guava, persimmon, mango, kumquat, cherries, and pineapple.
Sugar Intake
According to an article on ABCnews.com, the American Heart Association is asking Americans to decrease their sugar intake. They recommend that a female should consume no more than 6 teaspoons a day, while a male should have less than 10 teaspoons.
Unfortunately, sucrose is an ingredient in many prepackaged foods. Spaghetti sauces, pastas, cereals, salad dressings and peanut butters all contain excess sugars. The nutrition labels found on packaging are important to identify the lowest sugar food choices.
Consuming too much sucrose can cause weight gain. Sugar intake should be monitored on a daily basis.