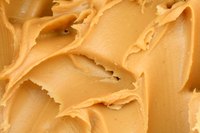 Peanut butter is one of the most popular foods in the country. Invented by George Washington Carver in the late 1800s, it basically consists of ground roasted peanuts and peanut oil. It packs a nutritional punch because it contains high amounts of fiber, protein and heart-healthy fats. But when trying to lose weight, will it help you burn fat?
Does It Help You Burn Fat?
Peanut butter does not burn fat. It's actually a source of fat. The polyunsaturated and monounsaturated fats in peanut butter are good for the heart because they help rid the arteries of excess cholesterol. The American Heart Association recommends that these types of fats replace saturated fats in your diet. However, fat still contains twice as many calories as protein or carbohydrate.
Peanut Butter and a Healthy Diet
Although peanut butter does not burn fat, it can help you lose weight in the long run. A desirable weight-loss diet is high in protein and fiber and low in saturated fat and trans fat. Fiber and protein are filling nutrients that won't add too many calories to your diet. Peanut butter has all of those qualities, which is why is an ideal snack if you are trying to lose weight.
Nutritional Value
In addition to its protein, fiber and healthy fat content, peanut butter also contains more than 30 essential vitamins and minerals. These include niacin, folate, potassium and vitamin E. Niacin is a B vitamin that helps convert food into energy. Folate is essential in promoting cell division, which makes it an important nutrient during pregnancy and childhood, phases of life when tissue grows rapidly. Potassium is an electrolyte and keeps a normal water balance between the cells. Vitamin E is an antioxidant and keeps harmful molecules known as free radicals from damaging the skin tissue. Not only can peanut butter help you lose weight, it can also contribute to your overall health.
Uses
Peanut butter isn't just for sandwiches. You can also eat it spread on celery sticks, whole grain crackers, or apples. It also makes a tasty addition to hummus, or in sauces for Thai and other Asian dishes. If you like, you can even eat it straight from the jar. Just make sure you're sticking to a reasonable portion size!
Considerations
Peanut butter is a heart-healthy, nutritious food. However it should only be consumed in moderation. A balanced diet low in fat and high in fruits and vegetables is advised by most health professionals. Also, peanut butter isn't for everyone. Some people have mild to severe peanut allergies, which means that for health reasons, they must avoid peanuts altogether.