A bronchial infection is also known as bronchitis and is a common ailment. This infection affects the lining of the bronchioles by causing them to become inflamed. The bronchioles are tube-shaped structures which allow air to enter and exit the lungs. This inflammation causes the production of mucous, making it difficult to breathe.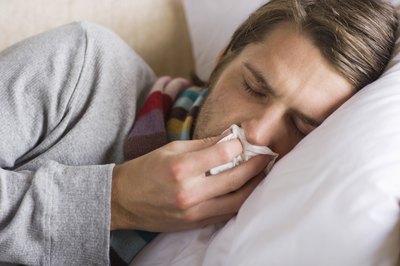 Two Classifications
Bronchial infections are classified as either acute or chronic. An acute bronchial infection is the more common type of infection and normally occurs after a person has had a cold or other infection of the respiratory system. Acute bronchitis will normally remedy itself within a few days. However, it can cause a lingering cough that lasts for several weeks.
Chronic bronchial infections mean that a person has a constant infection and their bronchioles are continually inflamed. This condition requires medical care and is classified as a chronic pulmonary disease or COPD. Most often this is found in smokers.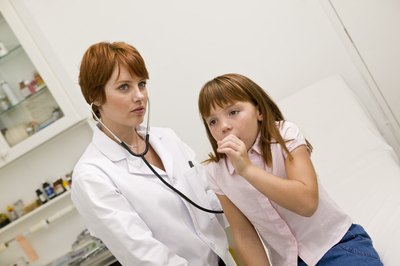 Causes
Acute bronchial infections are caused by a virus. This is usually the same virus that produces the common cold in infected persons. Another cause of an acute bronchial infection is breathing in polluted air. This may be in the form of secondhand smoke and other air pollution, such as exhaust and smog.
Chronic bronchial infections are caused by smoking tobacco products and long-term exposure to polluted air, such as the air that is expelled from industrial plants. Toxic gasses and other irritants that invade the air we breathe can also lead to chronic bronchial infections.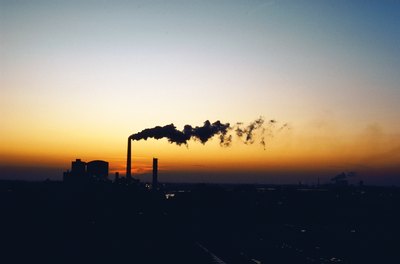 Symptoms
Symptoms of an acute bronchial infection include coughing, spitting up mucous, trouble breathing, wheezing, fatigue, fever, chills and pain in the lungs. The key symptom of an acute bronchial infection is a cough that lasts for several weeks.
Chronic bronchitis causes the bronchial tubes to become scarred due to recurrent inflammation, which thickens the tube lining and airways. Symptoms of a chronic bronchial infection include a cough that is worse in the morning than other times of day as well as in damp weather. Secondary infections, such as the cold or flu which occur regularly, can indicate chronic bronchitis.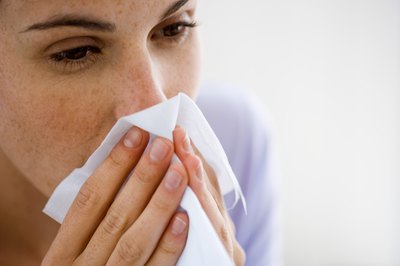 Medical Treatment
Like the common cold, acute bronchitis is often best treated with rest, fluid consumption, breathing in moist air that has been warmed and taking an over-the-counter medication to relieve pain and congestion. Depending on the nature of the infection, a physician may prescribe an antibiotic to treat an acute bronchial infection.
For those with chronic bronchial infections, a physician may recommend therapy to alleviate their symptoms. This usually involves pulmonary rehabilitation, which utilizes a breathing exercise program to build up the bronchial tubes in order to help the patient breath easier.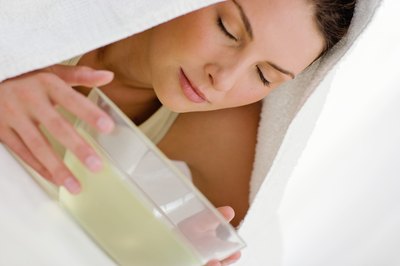 Prevention
Several steps can be taken to prevent bronchial infections. Avoiding tobacco smoke, whether through smoking cessation or by staying away from secondhand smoke, is key. Washing hands and steering clear of those who are sick are other ways to prevent contraction of a bronchial infection. Also, an annual flu vaccine may be beneficial in the prevention of a bronchial infection. Those over the age of 60 may also want to speak to their physician about a pneumonia shot, which can contribute to the prevention of bronchial infections in the elderly.