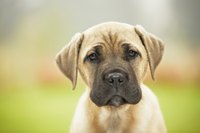 Hookworms are one of the most common intestinal parasites found in dogs. They attach themselves to the lining of the intestine and feed on your puppy's blood. Infection can cause anemia, severe diarrhea and death. It's important to recognize hookworm symptoms in puppies and intervene early.
Infection Through a Host
Adult hookworms lay eggs in an animal's intestine. These eggs then pass into the environment through the animal's feces. The eggs hatch within 10 days, and the hookworm larvae seek out a host such as your puppy. The larvae may burrow through your puppy's skin or be ingested. Puppies can also contract hookworms from their infected mother. Larvae can infect the fetuses of a pregnant female or pass through her milk to her puppies.
Common Symptoms
Hookworms in puppies can be a serious condition that quickly causes anemia. Common symptoms include pale gums, weakness, poor hair coat, dehydration, stunted growth and an inability to gain weight. Your puppy may also vomit and have black, "tarry" diarrhea. Hookworms that penetrate the skin may also cause dermatitis. This symptom is most commonly seen on the paws.
Severe Symptoms
Severe hookworm symptoms in puppies include pneumonia and respiratory disease. Your puppy may cough and develop respiratory problems if a large number of hookworm larvae migrate to the lungs. Hookworms can bleed their victim to death and your puppy may eventually die if left untreated. Puppies that manage to survive without treatment may experience chronic anemia.
Hookworm Treatment
Many wormers that kill roundworms also kill hookworms. Worm your puppy at two, four, six and eight weeks of age. Next place your puppy on a monthly heart worm preventative that also controls parasites. If you decide not to use a heart worm preventative, worm your puppy monthly until six months of age. A severely infected puppy may also need to be placed on a high-protein diet with iron supplements. Blood transfusions may be necessary if your puppy's condition is critical. Consult your veterinarian if you believe your puppy has hookworms.
Hookworms and Humans
Canine hookworms can infect people by penetrating the skin. Infection most often occurs when a person walks barefoot in places where animals defecate. Hookworm infections in people are easily treated but cause mild to severe discomfort. In extreme cases there may be lung disease and muscle pain. Prevent infection by practicing good hygiene. Wear shoes and gloves when gardening or handling infected substances. Remove your puppy's feces from your yard regularly and do not allow children to play in areas where your puppy has defecated.