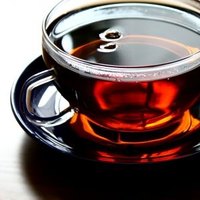 According to the Seattle Biomedical Research Institute (SBRI), three out of four women will develop a vaginal infection in their lifetime. People living in Asian countries such as China and Russia have been aware of the benefits of kombucha tea for thousands of years. Today, its beneficial yeasts are used to combat the harmful yeast overgrowth of Candida albicans, the fungus that causes yeast infections.
History
Kombucha is a fermented tea made from mushrooms that originated in Asia about 200 B.C., according to KombuchaCultures.com. It has carried with it a reputation for healing and illness prevention, with people all over the world boasting of its benefits, the website says.
Candida albicans, reports SBRI, lives in the mouth, vagina and gastrointestinal tract, often without causing difficulty. The trouble begins when there's an overgrowth of that natural yeast. Its history is widely unknown, though the first case was reported in Germany in 1839 by B. Lagenbeck, according to the Global Wellness website.
Benefits
Kombucha can relieve the unpleasant effects of Candida within the body, says KombuchaCultures.com. It uses its healthy probiotics---micro-organisms the restore balance to the intestine---and cultured yeasts to overcome Candida yeast overgrowth. According to The Kombucha Journal website, kombucha's yeasts and their production of glucuronic acid act to detoxify cells and cleanse unwanted organisms from the body.
Types
Kombucha is often brewed at home using a "mother" mushroom. This mushroom, says KombuchaCultures.com, is placed in black tea and then sealed. It ferments for approximately 30 days, creating a vinegar-like beverage. If you don't want to wait that long for the brewing process to finish, most health food stores sell kombucha tea flavored with natural fruits.
Misconceptions
Some people say kombucha should never be consumed by a person with a yeast infection, reports The Kombucha Journal website, under the mistaken belief that kombucha is full of yeast and bacteria that can worsen the condition rather than alleviate it. However, the website says, kombucha's yeasts promote health and wellness, as they are not in the same family as Candida. When these yeasts come in contact with Candida, kombucha's apathogen yeasts begin to take over.
Warnings
Though rare, kombucha can have side effects on the body, including upset stomach or allergic reactions. Kombucha should not be consumed if you are pregnant or nursing, as it causes the body to release toxins that could be dangerous to an unborn baby or be expressed in breast milk. Also, kombucha tea contains small, but varying amounts of alcohol.
Candida overgrowth is a medical problem that can lead to dental problems, a weakened immune system and dehydration. If you suspect you have a yeast infection, consult your health care provider before trying any natural remedies.