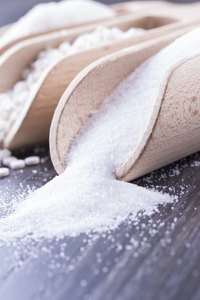 Saccharin is an artificial sweetener that is 300 times sweeter than sugar. It is considered a no-calorie sweetener because it has fewer than 5 calories per usual serving. It is sold under the brand names Sugar Twin, Sweet'N Low and Necta Sweet. While generally regarded as safe, as with sugar you should use it only in moderation due to potential drawbacks.
Use in Foods and Other Products
Check the labels of diet, sugar-free, reduced-calorie and reduced-sugar foods to see if they contain saccharin. You can find it in a wide variety of foods, including juices, jellies, chewing gum, beverages, canned fruit, salad dressings, dessert toppings, candy, jams and baked goods. It's also used in non-food products, such as mouthwash, toothpaste, lipstick, pill coatings and vitamins.
Safety and Considerations
The U.S. Food and Drug Administration says saccharin is safe for all populations as long as you limit your daily consumption to no more than 11 milligrams per pound of body weight. The amount of saccharin in diet soda sold by one large manufacturer can vary from about 7 milligrams to 95 milligrams per 12-ounce serving.
Despite some concerns in the past that saccharin might increase cancer risk, the National Cancer Society notes that this doesn't appear to be the case. However, a study published in Nature in September 2014 found that artificial sweeteners may alter the microorganisms in your gut in such a way as to cause insulin resistance, which could increase your risk for diabetes. This research is still preliminary, however, and further research is needed to verify these effects.