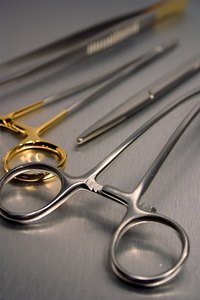 Women who are certain their reproductive days are behind them often opt for a tubal ligation as a permanent solution to possible conception. This surgical procedure is usually done on an outpatient basis and takes approximately 30 minutes. A tubal ligation is completed by a surgeon who will either cauterize or clamp off the fallopian tubes with a ring, clip or rubber bands in order to prevent any future pregnancies.
Function
A tubal ligation, also referred to as "tying the tubes," is a surgical procedure used to close a woman's fallopian tubes. The fallopian tubes connect the ovaries to the uterus and provide the passageway for a fertilized egg to travel for implantation in the uterine wall during pregnancy. Once a woman has tubal ligation surgery, she is considered to be sterile and should no longer be able to get pregnant.
Misconceptions
Some people believe that once a tubal ligation has occurred and recovery from the surgery has been completed, there is no possibility of becoming pregnant. While surgical sterilization procedures are highly successful in preventing pregnancy, a small chance of pregnancy still remains. According to a study in the New England Journal of Medicine, of 10,685 women who had tubal ligation surgery, 143 women, or 1.3 percent, had sterilization failures that resulted in pregnancy.
Identification
Women who conceive after having tubal ligation surgery may complain of symptoms generally associated with pregnancy such as nausea, headaches, breast tenderness, cravings, sensitivity to smells, cramping, bleeding, fatigue and constipation. If the fallopian tubes have fused back together, it is possible for a normal pregnancy to occur. If they have not and a woman becomes pregnant, it would result in an ectopic pregnancy. Signs of an ectopic pregnancy can include sharp stabbing pelvic or abdominal pain, vaginal spotting, lower back pain, low blood pressure, and fainting or dizziness.
Theories/Speculation
Women who have become pregnant after their tubal ligation surgery may have an increased chance of becoming pregnant again. Also, women who have suffered from an ectopic pregnancy after a tubal ligation are potentially at an increased risk for future ectopic pregnancies. It is estimated that a woman's chances of ectopic pregnancy increase by approximately 15 percent with each ectopic pregnancy she has.
Warning
Any woman who has had a tubal ligation and believes she is pregnant should contact a health care provider immediately. If a pregnancy does occur after a tubal ligation, there is an increased risk of it being an abnormal, or ectopic, pregnancy that can occur inside the fallopian tubes, where a baby cannot survive. An ectopic pregnancy can be life-threatening and should be diagnosed by a health care professional as soon as possible in order to determine the safest treatment option.