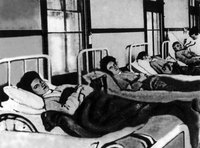 The year was 1907, and the cause for alarm was an epidemic of typhoid fever. Numerous cases of typhoid had mysteriously sprung up in Long Island, N.Y., which initially baffled health investigators. Eventually they were all traced back to one common cause: Mary Mallon, an Irish immigrant and cook who worked for numerous families and left a trail of typhoid fever in her wake. The infamous case of "Typhoid Mary," the first documented healthy typhoid carrier, is proof positive that typhoid is indeed contagious and can be spread from person to person by someone who shows no signs of the dangerous illness. However, most cases of typhoid are not transmitted by typhoid carriers, but are contracted when travelers in developing countries ingest contaminated food and beverages.
What Is Typhoid?
Typhoid fever is caused by a bacteria called Salmonella typhi. According to the Mayo Clinic, S. typhi bacteria and the germ that causes salmonellosis are related to each other, but are not the same bacteria. The CDC states that around 400 cases of typhoid are seen in the United States each year, 75 percent of which are acquired when people travel abroad. In some parts of the world, such as Latin America, Africa and parts of Asia, typhoid is still a very common illness. Typhoid fever accounts for the deaths of some 2.1 million people annually.
How You Get It
The S. typhi bacteria is common in countries with poor water and sewage treatment and is transmitted through the feces and sometimes the urine of someone who's infected with the germ. Most cases of typhoid are contracted through the oral-fecal route, according to the Mayo Clinic. Travelers may get typhoid by drinking contaminated water or eating food handled by someone who hasn't washed their hands after defecating. A small number of otherwise healthy people become typhoid carriers even after being treated for typhoid with antibiotics. The S. typhi bacteria continues to be present in their intestines or gallbladder for many years and can be transmitted to others when the bacteria is shed through their feces.
Typhoid Symptoms
The early signs and symptoms of typhoid include a high fever, headache, sore throat, weakness, stomach pain, and diarrhea or constipation. A rash erupts on the trunk that usually resolves within five days. If typhoid isn't treated, it gets worse--the high fever continues, and diarrhea or constipation becomes more severe. Typhoid suffers may experience an extended stomach and sudden, drastic weight loss. The illness becomes particularly dangerous during the "typhoid state," during which time typhoid suffers lay prone, eyes half-closed, in a state of delirium. The illness may improve during the fourth week, with fever decreasing over a long period of time. However, according to the CDC, as many as 20 percent of untreated cases of typhoid result in death.
Typhoid Treatment
Treating typhoid can be tricky, as the S. typhi bacteria has developed a resistance to many antibiotics that were once effective. In the United Statres, ciproflaxin is generally prescribed for adults and ceftriaxone for pregnant women and children.
Protection Against Typhoid
Those who intend to travel to countries where typhoid is common should receive a typhoid vaccine, which can be administered orally or through injection. But the CDC notes that vaccination alone won't protect you. Taking precautions while traveling is key to avoiding typhoid fever. The CDC recommends eating hot, cooked foods; drinking bottled water and ordering beverages without ice cubes; and avoiding eating raw fruits and vegetables that can't be peeled, as well as food sold by street vendors.