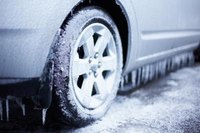 With a vast choice of tires available, choosing the best tire for your needs can be tough. Most drivers use all-season tires, and these come as standard equipment on most new cars and light trucks. Winter tires are designed for maximum traction on snowy or icy roads, but in dry or wet conditions, they offer less traction than all-season tires. Studded tires are illegal in many places and should only be considered for climates that see lots of very icy roadways.
All-Weather
If you drive in conditions that rarely drop below freezing and where there is little snow, then all-purpose, all-season tires should suffice. According to "Consumer Reports," these tires are best for year-round traction in dry, wet and mild winter conditions. If temperatures sometimes drop below freezing and you encounter only sporadic, slushy snow, then all-season tires marked "M+S" meaning mud and snow are a better option. These tires offer good rolling resistance, good tread life and good stopping power on dry and wet roads.
Winter Tires
If you live in a climate where temperatures drop below 5 degrees F, then the rubber compound in all-weather tires might not stay soft enough to offer adequate traction. Winter tires are specially formulated from softer rubber and are designed to remain soft in frigid temperatures. Softer tires mean better traction but also faster tread wear and reduced stopping power in dry conditions.
Choices
When deciding which tire to buy, consider where the majority of your driving takes place. If you drive infrequently and travel only short distances, all-weather tires might be sufficient even in cold, snowy conditions. If you travel long distances, frequently encounter deep snow or drive on snow-packed highways, then winter tires are probably a better choice.
Four Wheel Drive
A common misconception with all-wheel drive SUVs and four-wheel-drive vehicles is that the four wheel capability provides an added measure of safety and traction in icy and snowpacked conditions. While it is true four wheel drive will offer better accelerating traction, the stopping power of a car on icy or snowy roads is entirely a function of the tires.
Buying Snow Tires
Four of five snow tire models are rated highest by "Consumer Reports." Models from Goodyear, Blizzak, Gislaved, Hankook and Michelin are very well reviewed. Things to look for in a snow tire are wide, square, block-like treads; good siping or grooves running laterally across the tire tread; a tread pattern that will shed snow and water; and a speed rating appropriate to your cars specifications. The Rubber Manufacturers Association has set up stringent standards for winter tires. Winter tires meeting this standard are designated by a symbol of a snowflake inside a mountain silhouette. A good tire shop will explain the differences and help you to compare several models within your budget.
Spare Rims
It's a good idea to use snow tires only during snowy months. Tire shops charge to mount and balance tires per rim. Instead of paying for this twice each year, consider investing in a set of inexpensive steel rims for your snow tires. The time and labor involved in swapping out a set of rims is substantially cheaper than mounting and balancing tires. A handy car owner can switch the summer and winter rims at home, using only a standard car jack and a bit of elbow grease.