Pomegranates are a seasonal, reddish fruit known for high levels of antioxidants. According to studies, pomegranate juice can improve heart and prostate heath, as well as decrease erectile dysfunction. Studies also show that pomegranates can be beneficial for pregnant women and premature babies.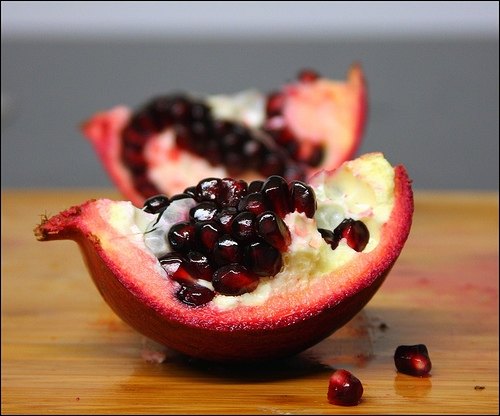 (Joe M500: Flickr.com)
Some scholars believe Eve may have been tempted by a pomegranate---not an apple---in the Garden of Eden. Pomegranates originated in tropical Asia. They are grown throughout the Mediterranean and Middle East. In the United States, commercial producers grow pomegranates in the San Joaquin Valley of California.
California pomegranates are available in markets October through December. Their peak season is in November and December. Pomegranate juice is available year-round. According to the Pomegranate Council, the fruit can be kept at room temperature for several days, or up to three months refrigerated in plastic bags. Refrigerate pomegranate juice for up to three days or freeze for up to six months.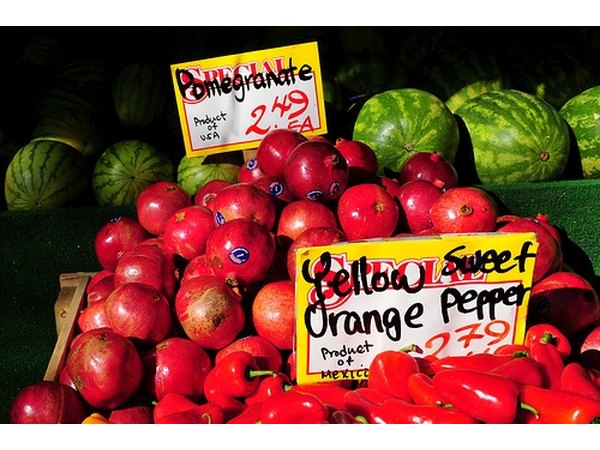 Pomegranate juice contains high levels of polyphenols, a form of antioxidants credited with fighting cancer and heart disease. According to a 2005 study published in the American Journal of Cardiology, patients drinking pomegranate juice showed improved blood flow to the heart. A pilot study at Technion Institute in Israel showed that patients with clogged arteries who drank pomegranate juice had less arterial plaque growth. A preliminary study published by the American Association for Cancer Research showed pomegranate juice could help improve prostate health. According to a 2007 study by the Journal of Impotence Research, pomegranate juice can improve erections. A study published in Pediatric Research in 2005 indicates that pomegranate juice may also reduce brain injuries in premature babies.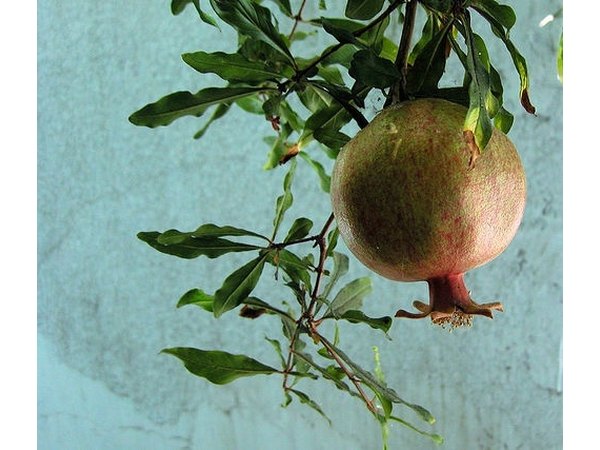 The Pomegranate Council hails the fruit as a low-calorie source of fiber. One medium pomegranate contains 104 calories, 1.5g protein, 26.4g carbohydrates, 9mg vitamin C and 399mg potassium.
The Pomegranate Council offers a three-step tutorial on how to eat a pomegranate. According to the Pomegranate Council's guide, cut off the crown of the fruit and cut the pomegranate into wedges. Put the wedges into a bowl of water and roll out the arils, the red juice sacs surrounding the seeds. Throw away everything but the arils. Strain the arils, which are now ready to eat, seeds and all.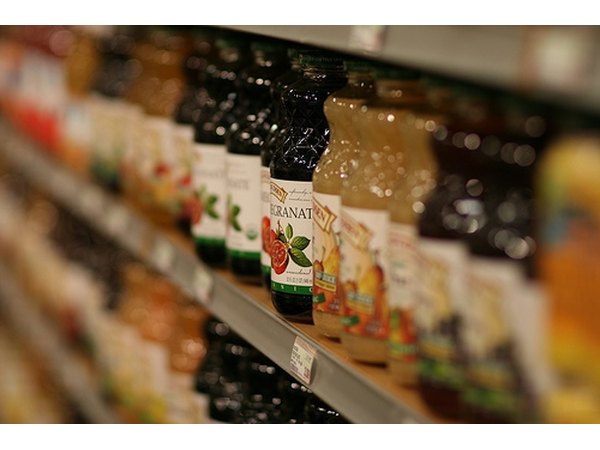 Promoted By Zergnet