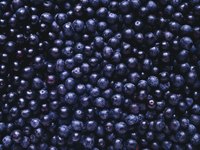 Although extracts from blueberry leaves and fruit are sold as dietary supplements to treat urinary tract infections, ulcers, hemorrhoids and chronic fatigue syndrome, there isn't enough evidence to show blueberry supplements are effective for those purposes. Blueberry supplements may, on the other hand, improve brain health, according to some clinical data. Taking these supplements may cause side effects. It's best to consult with your doctor before taking supplements of any kind.
Potential Benefit
Taking blueberry supplements may protect brain health, according to an animal study published in the March 2014 edition of the journal "Biomedical and Environmental Sciences." Blueberry extracts were shown in the study to improve cognitive function, which researchers say may reverse age-related cognitive declines. When possible it's best to get nutrients from food instead of supplements. You can get benefits from including blueberries in your diet. A preliminary study found that drinking wild blueberry juice improved memory in older adults, according to the results published in the April 2014 edition of "Journal of Agricultural and Food Chemistry."
May Cause Hypoglycemia
Blueberry supplements have the potential to lower blood sugar. This puts you at risk for hypoglycemia -- a condition in which blood sugar drops too low -- if you have diabetes. Get your doctor's permission before using blueberry supplements and take care to monitor your blood sugar levels. Watch out for signs of hypoglycemia, which include rapid heartbeat, sudden weakness or feeling faint, shaking, sweating and blurry vision. Having a small amount of fast-digesting carbohydrates, such as 4 ounces of juice or 2 tablespoons or raisins, helps quickly bring your blood sugar back up to normal.
Potential Drug Interactions
Blueberry supplements may interact with drugs used to control blood sugar. Your health care provider may need to adjust your dosage to prevent complications. Anthocyanins -- such as those found in blueberry -- may possess the potential to reduce blood clotting, according to the University of Maryland Medical Center. This may increase your risk of bleeding if you're currently on blood-thinning medication, including aspirin. Tell your doctor if you're taking medication to control blood clots.
A Note About Bilberry
Take care not to confuse blueberry supplements with bilberry supplements. While bilberry is related to blueberry, it is a separate plant native to Europe. Outside of the U.S., bilberry may be called blueberry. Bilberry is used to control blood sugar and, like blueberry, is rich in anthocyanins. For this reason, the same precautions that apply to blueberry supplements apply to bilberry. Both bilberry and blueberry supplements are available in a variety of forms, including capsules, juice, tincture, powder and dried fruit.