Bronchitis is an illness that can cause a variety of symptoms, including a cough. The severity of bronchitis can vary greatly among children. Some children will quickly recover from bronchitis, while others may suffer the effects of the illness for multiple weeks. With treatment, most children will recover from bronchitis with few problems.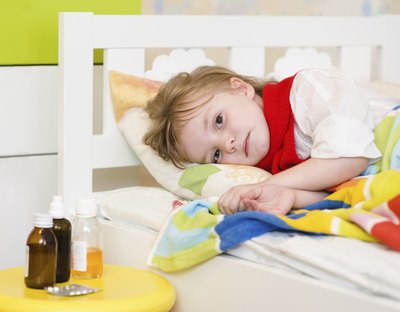 Causes
Bronchitis can be caused by a virus or bacteria. Children may also develop bronchitis if they inhale air that is contaminated with dust, smoke or certain types of fumes. Air pollution can also cause frequent episodes of bronchitis in children. Exposure to cigarette smoke can trigger bronchitis. Children who suffer from other conditions such as allergies or asthma may be more prone to developing bronchitis.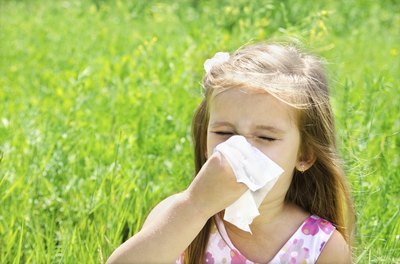 Symptoms
Children suffering from bronchitis will commonly develop a dry cough. Within a few days, this dry cough may begin to produce mucus. Many children will experience more severe coughing throughout the night. Wheezing after coughing is another symptom of bronchitis. Children with this illness will typically have a fever and complain of general body aches. Sore throats can accompany bronchitis. Most symptoms will disappear after two weeks although the cough may persist for a longer period of time.
Diagnosis
Most doctors will base their diagnosis of bronchitis on the physical symptoms a child may be suffering from. Tests for other diseases such as pneumonia may be used to rule out other illnesses. X-rays can be used by doctors to determine the condition of the lungs. Doctors may also use pulse oximetry to evaluate the amount of oxygen that is in a child's blood.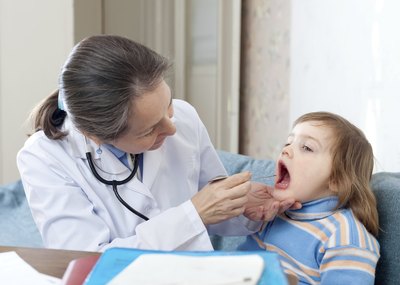 Treatment
Doctors commonly prescribe inhalers that are designed to deliver medication directly to the lungs. In some cases, doctors will treat the illness with an antibiotic. Humidifiers are used in homes with dryer air to alleviate the symptoms of bronchitis. Children should consume plenty of liquids to keep their airways moist and free of irritants. Smoking should not be allowed near a child suffering from bronchitis because it may aggravate the illness.
Warning
Children suffering from bronchitis may need to be treated in a hospital. Breathing treatments may be necessary if a child does not have enough oxygen in her blood. Children who have difficulty consuming enough water may need an IV to provide proper hydration. Other issues with a child's lungs or heart can complicate this illness and lead to other serious conditions including pneumonia. Children who suffer from repeated attacks of bronchitis may develop permanent side effects caused by the illness.