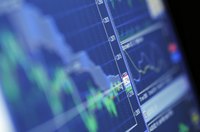 A stock becomes worthless when it has no value and no longer is traded. That usually happens when a company declares bankruptcy and liquidates its assets, leaving no money to reimburse stockholders. If you have worthless stock, you can deduct it on your income tax return.
Deducting the Value of Worthless Stocks
The Internal Revenue Service treats a worthless stock as though it was sold at the end of the tax year in which it became worthless. If you bought the stock during that year, it will be considered a short-term loss. If you owned the stock longer, it's a long-term loss. You can use the losses from your worthless stock to offset capital gains of the same type. For example, if you bought 100 shares of a $10 stock that became worthless after you owned it for two years, you could offset up to $1,000 worth of long-term capital gains. If you only have $500 of gains, you can carry the remaining $500 over to the next tax year.
Determining if a Stock Is Worthless
Just because a company goes bankrupt or its stock stops trading on an exchange doesn't automatically mean the stock is worthless. Stocks often continue trading on over-the-counter exchanges for pennies or fractions of pennies. Moreover, if the company is still operating under bankruptcy protection, the IRS may not consider the stock worthless even if the shares no longer are trading. An option if you are unsure about whether the stock is worthless is to sell your shares for pennies to a friend or relative, which gives you a sale you can record and deduct on your taxes.