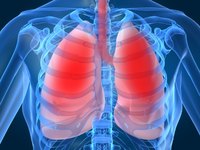 Asphyxiation, also known as strangulation, is when the airway is blocked or closed and air cannot enter the lungs. The person ultimately dies of lack of oxygen to the brain. It is unfortunately a fairly common cause of death in Western culture.
Significance
During the process of asphyxiation, the airway is cut off or blocked. This can happen in many ways: accidents, choking, drowning or anything that effectively cuts off the path of air to the lungs. Within minutes, death is imminent as the brain is starved for oxygen. Even if the airway is restored after a few minutes, damage to the brain can be permanent.
Function
The lungs take in air during an inhalation, and tiny sacs within the lungs filter the oxygen from the air into the blood. At the same time, other small sacs expel the waste gas carbon dioxide out of the lungs. The air travels down a bone-encased tube in the throat called the "windpipe" or trachea. Without the working of the lungs and the free passing of air back and forth through the trachea, the body cannot get the oxygen it needs for the brain to function.
Time Frame
The time from the moment the airway is cut off until death can vary. If a person is choking or cannot breathe for some other reason, there can be a few minutes before unconsciousness. In the case where a person is being choked deliberately, as little as 7 pounds of pressure can collapse the carotid artery, causing unconsciousness.
Effects
The effects of strangulation are brain damage, death, cerebral anoxia and damage to the windpipe (trachea) and throat (esophagus). These effects can be seen in those who survive a near asphyxiation experience and are often treatable in many cases. Brain damage, in the case of severe oxygen deprivation, is usually permanent.
Warning
Auto-erotic asphyxiation is a process in which a person performs self-asphyxiation or has a partner perform strangulation to increase the pleasure of the sexual act. Even with a partner helping, it is dangerous and should not be attempted.