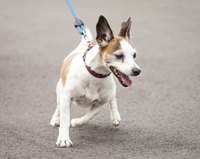 It can seem next to impossible to exercise high-energy dogs to the point of exhaustion, and those with lots of pent-up energy may resort to chewing, digging or other destructive behavior. Exercising your dog while he's wearing a weighted vest makes him have to work harder on his frequent runs. A weighted vest is an ideal way to help overweight dogs trim up or to put muscle on a scrawny dog.
Consult Your Veterinarian
Before purchasing a weight vest for your dog, check with your vet to make sure you won't be doing your dog more harm than good. Using a weighted vest when your dog is still a puppy can put too much stress on joints and bones, causing problems with development. Weighted vests can aggravate joint problems with older dogs or those with previous bone or spine injuries.
Increase His Exercise
If your dog doesn't seem to ever get enough exercise no matter how long you walk him, a weighted vest may be the answer. The weight of the vest can make your dog feel like he is doing a job, keeping him more focused on paying attention to you and less likely to burst after every bird, bunny or blowing leaf along the way. Your dog will be easier to train once his excess energy is released: According to trainer Cesar Millan, "An exercised dog is a trainable dog."
Changes in Attitude
Thunderstorms, outings or a high-strung personality can cause dogs to whine, hide or have behavioral problems. Dogs suffering from anxiety can find significant relief through wearing a weight vest during outings or other stressful times. The hugging sensation of the weighted vest wrapping around his chest gently massages pressure points that release endorphins, helping him feel calmer. Carrying the extra weight also acts as a distraction and expends more of their energy, leaving less energy for being anxious.
The Right Vest
Commercial vests come sized for small, medium and large dogs. Weight vests for small dogs have 4 pounds of weight, medium dog vests commonly have 8 pounds of weight and large dog vests have 10. Zippered pockets allow you to add weight as your dog builds strength. Most vests are made from ballistic nylon padded with sheepskin to avoid chafing across the chest. Measure your dog's girth just behind the front legs to determine which size he needs. The vest should ride along the dog's withers and upper back, and should not put pressure on the lower spine.