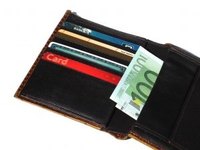 Credit cards allow you to make purchases conveniently, whether you are buying something in a store, making a purchase online or responding to that too-good-to-miss infomercial pitch. Unfortunately, credit cards also make it easy for thieves and unscrupulous companies to make unauthorized purchases on your card, too. You can prevent them from doing this or catch problems early if you know the different ways in which credit cards can be used for unauthorized transactions.
Stolen Cards
If your purse or wallet is stolen, or if you somehow lose your credit card, it may be used by whoever finds it to make unauthorized purchases. Many stores don't ask for identification or compare the signature on a credit card to the purchaser's driver's license. This makes it easy for thieves buy things in person. They may also use your card to make unauthorized purchases online. You should call your credit card issuer as soon as you realize your card is lost or stolen to minimize the thief's ability to make unauthorized purchases.
Stolen Card Numbers
A thief doesn't actually need your credit card to make unauthorized purchases. He simply needs to get your number, expiration date and three-digit security code. Once he has that information, he can easily make purchases online and over the telephone. You may not know this is happening until you are turned down for a purchase because the thief has maxed out the card or until you see the unauthorized items on your statement. Some credit card issuers will notice a purchasing pattern that could indicate fraud and contact you.
Third-Party Charges
When you order a product online or call a number from a television ad, you may discovered unauthorized charges on your credit card from third-party vendors. This happens when sellers offer you a free trial of something along with the purchase you are making or membership in some type of club. This may be done through fast talking over the telephone or in the small print when you finalize an online purchase. Technically you have agreed to the charge, but you have no idea you authorized it until you see it on your statement.
Detection
You can detect unauthorized charges as quickly as possible by checking your credit card statement on time regularly. Don't wait until your monthly statement arrives. Check it yourself every week online. If you see an unauthorized purchase, contact the company that made the charge to get more information. If they will not remove the charge, file a dispute with your credit card company. You must try to resolve the situation with the company that made the charge before filing a dispute. Document your resolution efforts so you can give the information to your credit card issuer.
Prevention
Prevent unauthorized use of your credit cards by protecting your card number as closely as possible. Never give it out over the phone when you have not initiated the call, and don't let the customers around you see your card number when you're using it in person. If your credit card issuer offers one-time use credit card numbers, use those to make online purchases or to buy things over the telephone. Otherwise, get one credit card with a low limit that you use exclusively to buy things online or from television ads. If you see an unauthorized charge, you can close the card immediately and have it reissued without affecting any monthly payments for legitimate bills that you may have incurred on your other cards.