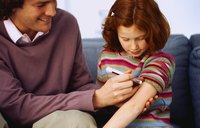 Juvenile diabetes, now more commonly known as Type 1 diabetes, is a severe disease. It causes the immune system attacks the cells that produce insulin, a vital hormone necessary to move sugar created from food from blood to your body's cells. If left untreated, juvenile diabetes can cause serious health problems, such as heart disease and eye problems. Symptoms can appear suddenly and without warning.
Increased Urination
According to Diabetes Symptoms Online, increased urination is one of the most common early signs of juvenile diabetes. Because insulin is necessary to move sugar from your blood to your cells, when there is no insulin being produced, that sugar builds up in the bloodstream. High blood-sugar levels causes the kidneys to try to filter out that excess sugar by increasing the urge to urinate.
Increased Thirst
This symptom can be easily written off as the cause of the increase in bathroom trips, but the Mayo Clinic reports that it's the increase in urine output that causes the increased thirst. With your kidneys working overtime to try to rid the body of the excess blood sugar, they have to pull fluid from other tissues and areas of the body in order to keep up with the demand. That can make you dehydrated, and your body will demand more fluid intake.
Extreme Hunger
According to the Diabetes Information Hub, the sugar, or glucose, created from the food you eat is your body's fuel source. Without insulin, that fuel can't make it into the body's cells. Your organs and muscles soon become low on energy and signal to the body that it's time to eat. Because the glucose never makes it out of the bloodstream, your body never feels as though it's been "fed" and will continue to sound the hunger bell.
Weight Loss
Despite the increase in hunger, you may experience unexplained weight loss. According to Diabetes Symptoms Online, that is because without insulin your body cannot use any of the fuel it's been taking in, and must resort to using your fat stores to survive. When the fat is gone, it begins using the proteins found in your muscles and other tissues. That can lead to rapid weight loss.
Fatigue
Another symptom reported by the Mayo Clinic is fatigue. With the body running low on fat deposits and no new fuel making it in to refill them, it's very easy to understand why you would feel tired and listless very quickly and very often. Regular caloric intake is vital in order to keep your body strong and healthy, and with no insulin to utilize the food properly, your muscles will weaken and tire quickly.