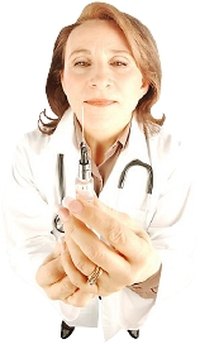 Artefill is a permanent injectable filler for facial wrinkles and furrows that is manufactured and marketed by Artes Medical, Inc. It contains water, refined calf collagen, polymethylmethacrylate (PMMA, also known as Plexiglas) microbeads, and less than 1 percent lidocaine (a pain killer), saline, and a phosphate buffer. It is approved for use in the United States by the U.S. Food and Drug Administration (FDA) for filling nasolabial folds, the wrinkles that may form on each side of the mouth. Unlike most other injectable cosmetic fillers, it is never absorbed by the body and does not require re-injection to be maintained.
Swelling, Reddening and Bruising
The most common side effects of Artefill treatment are mild swelling, reddening or bruising at the injection site. The swelling and reddening usually go away within 24 hours, and the bruising usually disappears within three to seven days.
Scarring
Artefill can trigger serious scarring in people who form keloid scars or hypertrophic scars. People who tend to form these types of scars should not use Artefill.
Allergic Reactions and Hypersensitivity
Artefill can trigger allergic reactions. The symptoms of a mild allergic reaction may include itching, persistent swelling or redness, and tenderness or pain at the injection sites. A severe allergic reaction may include anaphylactic shock. People who have a history of severe allergies should not use Artefill.
Other people who should not use Artefill include the following: People with a known allergy or hypersensitivity to lidocaine, bovine collagen, injectable collagen or collagen implants, hemostatic sponges or collagen-based sutures. People who are undergoing or planning to have desensitization injections to meat. People with hemophilia and people who are taking any substance that reduces blood clotting.
Infection
Like any other procedure that involves injecting through or cutting the skin, Artefill treatments can cause infections. Artefill should not be injected into any area that already has an infection, pimples, cysts, hives or a rash.
Rare Side Effects
The FDA has reported that fewer than 1 percent of people who have used Artefill in published studies have had the following side effects, which may or may not have been reflated to the Artefill treatment: abscesses visible puncture areas blurred vision flu-like symptoms flare-ups of existing oral herpes (cold sores) granuloma or enlargement of the implant acne-like lesions visible capillaries hair loss at the injection site dry skin mild chest congestion fainting
The FDA also states that similar cosmetic injectable fillers used outside of the United States are known to potentially cause drainage of fluid at the injection site and nodules that require surgical removal or drug treatment.
Potential Serious Long-Term Effects
Little is known about Artefill's long-term effects. The U.S. FDA has approved Artefill as a permanent cosmetic implant. However, Arnold W. Klein, MD, a Beverly Hills, California, dermatologist, has joined with at least seven other physicians in stating that they believe Artefill should be banned. Klein wrote in a May 8, 2008, statement that injectable fillers, including Artefill, "can cause foreign body reactions in which the body's immune system attacks these implants and bacterial biofilms can encase them, causing hard, red, painful and sometimes oozing nodules. In the case of Artefill, a permanent filler, we have scientific studies showing these reactions occurred many years after the injections were administered."
He stated that long-term consequences of using injectable fillers can include "lumps under the skin, long-term scarring and facial deformity." He also noted the death of a Los Angeles County man whose autopsy report related the use of Artefill to an immune dysfunction of the lung that may have contributed to the man's death.