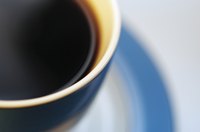 Having high cholesterol may increase your risk for heart disease. Levels of low-density lipoprotein -- the "bad" cholesterol -- should be low because LDL brings cholesterol to your arteries, making clogs more likely. Levels of high-density lipoprotein -- the "good" cholesterol -- should be high because HDL carries the cholesterol to your liver so that it can be removed from your body. Triglycerides, another type of fat that is in your blood, can increase your heart disease risk. Your diet affects your levels of LDL, HDL and triglycerides, but most types of coffee don't have a large effect on cholesterol if you drink it in moderation.
Filtered and Unfiltered Coffee
Whether you drink caffeinated coffee or decaf isn't an issue when it comes to cholesterol. What matters most is whether you drink filtered coffee or unfiltered coffee. A study published in Molecular Endocrinology in 2007 notes that a substance in unfiltered coffee called cafestol is one of the most cholesterol-raising substances in the diet. In addition, it increases triglyceride levels. Turkish coffee, Scandinavian coffee, cafetiere coffee, espresso and coffee made with a percolator or French press are all unfiltered coffees. Filters remove most of the cafestol in coffee.
An article published in Current Cardiology Reports in August 2013 also notes that while unfiltered coffee causes small increases in LDL cholesterol and triglycerides, filtered coffee doesn't have this effect.
Amount of Coffee
The more coffee of any type you drink, the more likely it is to affect your cholesterol levels. A study published in the European Journal of Clinical Nutrition in 2003 found that drinking at least 4 cups of coffee per day for four weeks led to an increase in total cholesterol regardless of whether the coffee was filtered or unfiltered, and not drinking coffee for three weeks led to a decrease in cholesterol.
The authors of the study, however, didn't note whether the coffee consumed was black or with cream or sugar, which could make a difference in the results.
Coffee Additions
Black coffee may have less of an effect on your cholesterol levels than coffee with cream and sugar. If you drink your coffee with cream or whole milk, the saturated fats in these additions could cause an increase in your cholesterol levels over time, and if you prefer sugar or flavored syrups containing sugar in your coffee, this could lead to an increase in triglyceride levels.
Other Considerations
Having a 6-ounce cup of coffee in the morning about an hour before a cholesterol test may cause a slight increase in your cholesterol, but this isn't enough to be clinically significant, according to a study published in Annals of Pharmacotherapy in July 2005. It isn't likely to move you from the normal cholesterol category to the borderline or high-cholesterol categories.