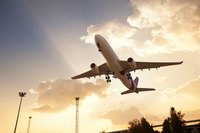 The Internet has had a notable effect on the airline industry. As recently as the 1980s and into the '90s, fees paid to travel agents, who received a percentage of every ticket sold, dipped into airline revenues. This was costly for the airlines, and the industry found itself struggling with a third-party cost it couldn't control effectively. However, once the Internet became a reliable source of airline ticketing, the game changed for the airlines.
Greater Flexibility
American Airlines took advantage of the new technology first when it integrated its formerly stand-alone Sabre computer system with the Internet. The new capability resulted in an ability to manage and store 36 million fare records, that in turn, were able to produce 1 billion fare offers on demand. As a result, this practical innovation led the airline to become one of the most efficient and successful companies the industry's history.
Wider Selection
The customer's new ability to individually research, negotiate and purchase tickets directly has altered the competitive equation between buyer and seller. Before the Internet, ticket choices were primarily limited to the major airlines, and regional airlines were not able to market effectively against the larger carriers. However, once smaller carriers and customers could connect effectively, this synergy created a host of new, cheaper travel options. Since the time when travel agents took a cut of every ticket sold, passenger traffic on commercial aviation has grown by about 5 percent annually, according to Boeing, and much of that growth can be attributed to new efficiencies associated with networked marketing, sales and point-of-sale systems.
Ticketless Travel
In the past, customers expected to wait up to two weeks for paper tickets to be delivered, and even the fastest ticketing processes offered only 24-hour turnarounds. The only way to get a ticket on demand was to go to the airport and stand in line at the counter. However, with the advent of the Internet, followed by ticketless travel, passengers can make ad-hoc travel plans in as little as 10 minutes.
Decreased Indirect Costs
Indirect costs affect an airline's bottom line in different ways. For example, eliminating the travel agent as a cost center created all kinds of additional revenue margin that was then redirected to marketing, equipment, systems and staff growth. This subsequently lead to customer-centric, globally distributed ticketing processes that additionally reduced point-of-sale costs across the board.
Other Benefits
While the ability to negotiate air travel directly with airlines has proven to be an enormous benefit both for travelers and the airline industry, there are additional ways the Internet has changed the industry. For example, passengers can engage third-party services like expedia.com, hotwire.com, and Travelocity.com to compare multiple flights to find the best deal in terms of price, amenities, etc., as well as monitor changing seat prices and alert them if a better deal becomes available. Passengers also have the ability to monitor and redeem their frequent flyer points online. Other Internet-driven passenger capabilities, such as printing boarding passes and itineraries, save the airlines a great deal of time and money as well,