The B vitamins are a group of water-soluble vitamins that your body needs in small amounts. You must consume them regularly because your body cannot store them. Vitamins B-1, B-6 and B-12 each play a different role in keeping you healthy. Eating a variety of foods from each of the food groups may help ensure you get what you need.
Why These Bs
Vitamin B-1, also known as thiamine, keeps your nervous system healthy, helps metabolize the food you eat into energy and assists in keeping your appetite normal. Adults need 1.1 milligrams to 1.2 milligrams of thiamine a day. Men have slightly higher needs than women.
Vitamin B-6 helps your body break down protein and is necessary for making insulin and hemoglobin. You need 1.3 milligrams of vitamin B-6 a day.
Because vitamin B-12 is a nutrient necessary for the formation of red blood cells, not getting enough can lead to anemia. And like thiamine, vitamin B-12 also supports nervous system health. You need 2.4 micrograms of vitamin B-12 a day.
One-Stop Shop
Of the three B vitamins, vitamin B-12 is the limiting vitamin because it's primarily found in animal foods. To get all three B vitamins in one food, wild Atlantic salmon makes a good choice, as it contains a good amount of all three.
Other animal foods that help you meet your vitamin B-1, B-6 and B-12 needs include lean pork chops, trout and beef sirloin steak. While all three types of foods contain all three vitamins, they contain them in different amounts. The pork chop is an excellent source of thiamine and vitamin B-6, and the trout and sirloin are better sources of vitamins B-12 and B-6. Roasted chicken and hard-cooked eggs are also sources of the three B vitamins, but in lesser amounts.
You may also be able to find all three nutrients together in fortified breakfast cereals.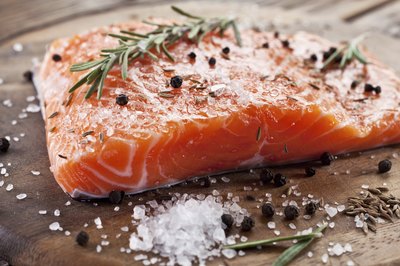 Bs Without Limits
You can also meet your daily B-1 needs with black beans, whole-wheat macaroni, acorn squash or brown rice. Orange juice, yogurt and oatmeal also contain vitamin B-1 in lesser amounts.
Chickpeas, potatoes, marinara sauce and waffles are all good sources of vitamin B-6. A 1-cup serving of chickpeas meets 55 percent of the daily value for vitamin B-6.
Additional sources of vitamin B-12 include milk, cheese, liver and clams. You can also find vitamin B-12 in certain brands of nutritional yeast. If you're a vegan, you may need to supplement your diet with vitamin B-12.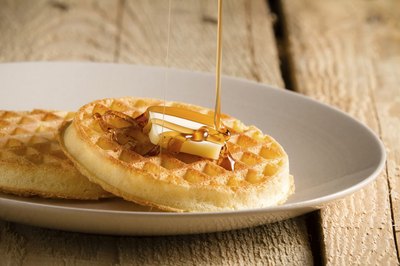 Mixin' It Up
While it's nice to be able to get all the nutrients you need in one food, the key to good health is to eat a variety of nutrient-rich foods. A healthy breakfast rich in all three B vitamins might include a bowl of oatmeal made with milk and topped with sliced banana. At lunch, you might enjoy grilled chicken on a bed of greens with sesame seeds, raisins and low-fat salad dressing and a container of yogurt on the side. For dinner, a lean hamburger on a whole-wheat bun with brown rice and spinach makes a good B-vitamin-rich meal.