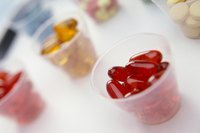 As many as 30 percent of pregnant women have some type of vitamin deficiency, according to a 2006 article published in the "International Journal of Fertility and Women's Medicine." A healthy diet, including the recommended amounts of many vitamins, is essential for maintaining a healthy reproductive system in both women and men. This is important not just for pregnancy, but for minimizing your risk for other reproductive health problems as well, such as certain types of cancer, endometriosis and polycystic ovary syndrome.
Vitamin A
People who don't get enough vitamin A tend to have poor reproductive health, according to the United Nations Food and Agriculture Organization. Being deficient in vitamin A during pregnancy can alter the balance of hormones and make birth defects and infections more likely, especially in the first trimester when the baby's organs are forming. Men need 900 micrograms of vitamin A per day, and nonpregnant women need 700 micrograms per day. Pregnant women should get at least 770 micrograms of vitamin A per day.
B Vitamins
Women who get sufficient amounts of folate are less likely to get pregnancy-induced megaloblastic anemia, and their babies are less likely to have neural tube defects. Women should get at least 400 micrograms of folate per day before pregnancy and at least 600 micrograms per day during pregnancy. Taking vitamin B-6 while pregnant may help limit symptoms of nausea and vomiting, according to a study published in December 2009 in "Midwifery," although it didn't help as much as ginger. Nonpregnant women need at least 1.3 milligrams of vitamin B-6 per day, and pregnant women need at least 1.9 milligrams.
Vitamins C and E
Getting plenty of the antioxidant vitamins C and E may help improve the quality of a man's sperm, according to an article published in "Reproductive Biology and Endocrinology" in 2013. This article also noted that men who took supplemental antioxidant vitamins had an increased likelihood of getting their partner pregnant and enjoying a live birth compared to men who didn't take these supplements. Men need at least 90 milligrams of vitamin C each day and at least 15 milligrams per day of vitamin E.
Vitamin D
Vitamin D is also associated with the health of sperm, potentially increasing the quality of semen, the motility of sperm and the likelihood of a good fertility outcome. Women who get enough vitamin D tend to be more likely to get pregnant with in vitro fertilization and less likely to get endometriosis and polycystic ovary syndrome, according to a review article published in the "International Journal of Clinical Practice" in March 2013. Although research is still preliminary, getting enough vitamin D in your diet may also help lower your risk for breast cancer, according to a review article published in "Nutrition and Cancer" in 2011. Adults need at least 600 international units of vitamin D per day.