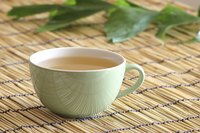 Whether you use thin slices of fresh ginseng root or dried ginseng powder, your cup of ginseng tea will contain active ingredients that may help you fight colds, control blood sugar or protect your cardiovascular health. Different batches of ginseng root contain varying amounts of active ingredients, however, so you won't know how much is in your tea. Check with your physician before using ginseng because it can interfere with some medications or cause side effects.
Types of Ginseng
Asian and Korean ginseng comes from the same plant, Panax ginseng. American ginseng is a different variety, but it belongs to the same Panax family. They all share some of the same benefits because they have the same primary active ingredients, ginsenosides.
When the root is dried, it's called white ginseng. If the root is steamed and then dried, the product is red ginseng, notes the Tang Center for Herbal Medicine Research.
Siberian ginseng is not real ginseng. It comes from a different plant family and contains different active ingredients called eleutherosides.
Controls Blood Sugar
Ginseng may help prevent or treat diabetes by controlling blood sugar. After researchers reviewed 15 published studies, they concluded that ginseng from the genus Panax, which includes Asian, Korean and American ginseng, modestly but significantly improved levels of blood glucose. They reported the findings in PLoS One in September 2014.
The PLoS One report noted that participants saw improved blood glucose levels whether they had diabetes or not. More research is needed using standardized ginseng preparations to verify its effectiveness for lowering blood sugar, however.
Relieves Respiratory Illness
People who took ginseng had slightly fewer respiratory problems, such as flu and common colds, than study participants who didn't take supplements, according to a review in Evidence-Based Complementary and Alternative Medicine in February 2011. But when they came down with an illness, it lasted for a significantly shorter amount of time.
Another study using Korean red ginseng found that subjects taking ginseng had fewer respiratory illnesses compared to subjects taking placebos, reported the Journal of Korean Medical Science in December 2012.
The 2011 report noted that evidence is limited and the overall quality of the studies varied, so more research is needed to form a recommendation.
Improves Cardiovascular Health
Research with lab animals and people shows that ginseng may protect your cardiovascular health by working as an antioxidant, regulating blood lipids and stimulating nitric oxide, which relaxes blood vessels and lowers blood pressure.
Researchers face a challenge because ginseng contains at least 40 different ginsenosides, and each one has a distinct action in your body. All the effects must be determined before ginseng can be called safe and effective for treating heart disease, according to a July 2014 review in the Journal of Ginseng Research.
Health Warnings
Ginseng can exert an estrogenlike effect. For this reason, do not drink ginseng tea if you have a hormone-sensitive cancer, especially breast cancer.
If you take medications, don't use ginseng until you talk with your health care provider because it can interact with a number of medications, including anti-coagulants such as warfarin.
Ginseng tea may cause side effects ranging from dry mouth, nausea, vomiting and diarrhea to insomnia and a fast heart rate.