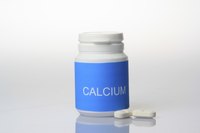 Calcium supplements come in a number of forms, and the type of calcium supplement will affect whether it is helpful for relieving joint pain. Two types of calcium supplements have been studied for this purpose -- calcium carbonate and calcium ascorbate -- with differing results. Don't take any supplement without first discussing it with your doctor to make sure it is safe for you.
Calcium Carbonate Effects
Taking a supplement containing calcium carbonate and vitamin D isn't likely to improve your joint pain. A study published in the "Journal of the Academy of Nutrition and Dietetics" in October 2013 found that these supplements didn't improve joint symptoms in postmenopausal women who took them for two years. As calcium carbonate is also one of the types of calcium more likely to cause side effects, such as constipation, bloating or gas, you may want to choose another type of calcium supplement.
Calcium Ascorbate Effects
Calcium ascorbate supplements, on the other hand, may be beneficial. These supplements usually provide about 900 milligrams of vitamin C and 100 milligrams of calcium per 1,000-milligram tablet. A preliminary study published in the Danish journal "Ugeskrift for Laeger" in June 2003 found that taking calcium ascorbate for two weeks was beneficial for reducing pain from arthritis in the hip or knee. The study used very high amounts of vitamin C, however, and only achieved about half of the benefits typically experienced from taking nonsteroidal anti-inflammatory drugs. Further studies are needed to verify the benefits and determine whether a safer, lower amount of vitamin C would be helpful in reducing joint pain.
Potential Considerations
It's possible to consume too much calcium. The tolerable upper intake level for adults is 2,500 milligrams per day. Getting more than this from foods or supplements may increase your risk for toxicity symptoms, such as kidney stones, constipation and the calcification of your organs. It may also increase your risk for heart disease, according to the Office of Dietary Supplements. High calcium intakes can interfere with the absorption of the essential minerals zinc and iron. Calcium can interact with the certain medications, including diuretics, osteoporosis medications, certain antibiotics, the anti-convulsant phenytoin and medications for hypothyroidism and medications that treat Paget's disease.
Other Options
Any number of conditions could be responsible for joint pain, such as bursitis, arthritis, a bone or joint infection, tendinitis, sprains, a fracture or other injury or gout. Your doctor can advise you of the medications and lifestyle changes most likely to improve your joint pain. Depending on the cause, this could include treating the condition that is causing the pain, massage, warm baths, stretching exercises and nonsteroidal anti-inflammatory drugs, such as ibuprofen.