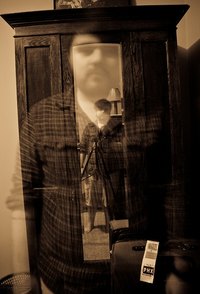 Dementia in the elderly is a progressive condition. The behavioral symptoms that accompany this disorder can sometimes be mistaken as symptoms of another condition. Depression and psychosis may also be present in those who suffer from dementia. Family members are usually the ones who have to decide when someone with dementia can no longer care for themselves.
Identification
Dementia is a medical condition in which brain functions gradually deteriorate over time. This condition typically occurs in individuals who are elderly as a result of aging; however, it is not considered a normal part of the aging process. The majority of dementia conditions are a result of Alzheimer's disease. Other cases result from what's called vascular dementia, where damage is caused by a series of small strokes. A small percentage of the elderly develop dementia as a result of Lewy bodies. Lewy bodies are abnormal protein deposits that appear in the brain. In each case, the behavioral symptoms that accompany dementia are caused by the gradual death of brain cells.
Function
Individuals who suffer from dementia show signs of difficulty in daily functioning. Areas in the brain that regulate inhibitions begin to break down. When this happens, inappropriate behaviors such as undressing in public places and talking to oneself begin to occur. Areas of the brain that regulate visual and auditory abilities begin to malfunction as well. Normal gestures like hugs, or passing a dish, may be construed as an assault causing the person with dementia to react fearfully or aggressively. Short-term memory problems and difficulties communicating also begin to appear.
Symptoms
As symptoms become progressively worse, persons with dementia will eventually require constant supervision. It's at this point when many are admitted to nursing homes. The behaviors that most commonly result in nursing home admissions are disruptive or aggressive in nature. Behaviors such as wandering off, assaulting others and kicking occur to the extent where the safety of self and others is at risk. Less aggressive behavior displays include nonsensical speech, cursing, temper tantrums, confusion, hiding belongings and making odd noises.
Depression
Depression disorders may also contribute to a person's behavioral symptoms, as many individuals with dementia suffer from episodes of depression. Depression symptoms may become pronounced to the point where these symptoms are the first to draw attention to the individual's state of mind. Changes in cognitive function become noticeable. Individuals tend to sleep more, spend less time with others and eat less. Mood swings, crying spells, and a preoccupation with death and dying are also apparent.
Psychosis
In some cases, psychosis may play a part in how a person with dementia behaves. It may be difficult to distinguish between psychotic symptoms and symptoms that accompany dementia. What distinguishes these two sets of symptoms is when a person is having hallucinations, or is in a delusional state. Hallucinations are present when the person is actually seeing something that's not there, as opposed to a dementia symptom where visual impairment is evident. Delusional symptoms affect a person's orientation in terms of what they believe to be true versus what actually is. An example of this would be a former veteran who believes he's still in the service and is home on leave.