The human eye consists of many different parts. One of the most prominent parts of the eye is the iris. An iris is a rimmed ring around the black pupil of the eye. Human eyes have enormous color variation. A person's eye color depends on both genetics and overall physical health.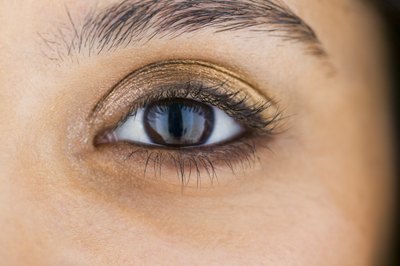 Brown Eyes
Brown eyes are the most common eye color in the world. The shade of brown can range from a deep brown that appears almost black and can barely be distinguished from the pupil, to a light shade of amber. The gene for brown eyes is dominant, meaning that a person with this eye color is more likely to pass it on their offspring. Brown eyes are very common among people who live in Asia and Africa.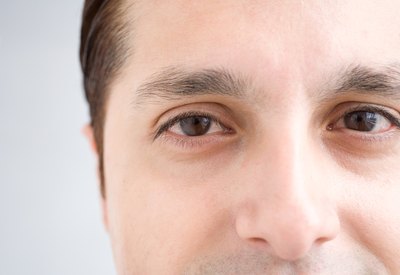 Blue Eyes
Blue eyes are less common than brown eyes. Shades of blue can range from a deep sapphire color to a very light blue that may look almost white. Blue eyes are more common among people of northern European descent.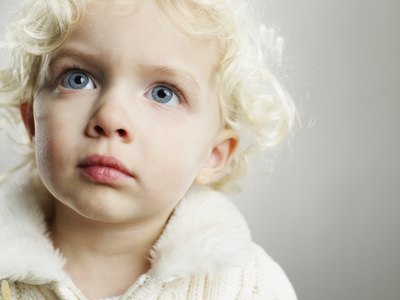 Green Eyes
Green eyes are frequently found in northern and middle European population groups. Shades of green eyes range from light lime to deep emerald. Green eyes are essentially brown eyes with flecks of fat over the iris.
Hazel Eyes
Hazel eyes are eyes that appear to be two different colors at the same time. The rim of the iris may appear a different shade than the rest of the iris. Hazel eyes look like flecks of two different colors in the entire iris. Hazel can be further divided into two categories: green-blue hazel and green-brown hazel. If you have green-blue hazel eyes, your eyes will often have shades of both blue and green in them. Green-brown hazel is more common than green-blue hazel eyes. People who have hazel eyes commonly find that their eyes turn one complete shade at some point in their lifetimes.
Rare Eye Colors
In addition to brown, blue, green and hazel eyes, humans can also have eyes in many other colors, including gray. Actress Elizabeth Taylor is noted for her violet-colored eyes. People who lack a pigment called melanin are known as albinos. In severe forms of the disease, an albino's eyes can appear pink, and even dark red, because the hemoglobin in the eye capillaries of their eyes is not masked by melanin.