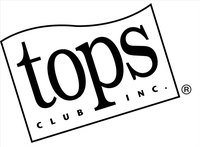 TOPS is unlike most other weight loss programs because it is non-profit and does not sell a diet plan or prepackaged food. The program is open to men, women and children and is based around the idea of group support. Members meet with their groups to share their individual weight loss successes and failures, allowing them not only to garner support but provide it for fellow members as well.
History
TOPS, which stands for Take Off Pounds Sensibly, was founded by Esther S. Mans in 1948 after she was inspired by the support she received from a pregnancy group she met with while expecting her fifth child. Originally based in Milwaukee, by the end of the second year of its conception, TOPS had chapters all over the city. By the end of 1951, TOPS had chapters in every state and became incorporated in 1952. The first convention for TOPS was held in 1955 and highlighted TOPS' connection with safe medical advice, unlike other weight loss programs of the time. In 1966, TOPS Club Inc. Obesity and Metabolic Research was founded to study weight loss in patients. Mans retired in 1991, but the program remains popular. In fall 2009, Barbara Cady was the corporation's president.
TOPS Concept
TOPS' goal has never been to make money. Members pay a minimal fee to join and maintain their membership. TOPS also strongly encourages the involvement of a physician throughout the weight loss process. The program does not provide members with a calorie-based diet program or pre-made meals available for purchase. TOPS prides itself on supporting sustained healthy weight loss instead of crash dieting.
Chapters
TOPS chapters can be found not only in the United States, but also in Canada and in numerous other countries worldwide. In 2009 there were roughly 10,000 chapters, all following the TOPS weight loss support system. TOPS is still one of the cheapest weight loss programs to join, charging only $26 in the United States with a recurring monthly fee of only $5 in 2009. Members are encouraged to meet with their personal physicians to establish a weight loss goal before meeting with their chapter. Chapters are peer-based, and members vote for their chapter leader. The groups meet weekly and perform private weigh-ins. Members discuss a wide range of topics that support healthy weight loss ranging from exercise tips to mindful eating.
The Food Exchange System
Instead of providing members with specific diet plans, members of TOPS are encouraged to follow the food exchange system. The exchange system categorizes food based on its composition of carbohydrates, proteins and fats instead of by calories. There are six food exchange groups (starch/bread, meat, fruit, vegetables, milk and fat), with each group containing foods of similar make up. For example, instead of telling members to eat two ounces of chicken breast, the food exchange program will say to eat one meat exchange. The system is based on the consumption of 1,200, 1,500 or 1,800 calories per day and allows members a wide range of possibilities when it comes to preparing meals.
Online Resources
In addition to the weekly chapter meetings, TOPS also has a variety of online resources. The site provides, for free, everything from a BMI calculator, to a detailed explanation of the food exchange system, as well as lists for food exchange in each of the six categories. The site also gives an example of what 28 days of meals on the food exchange system could look like. Those following the program can also download a daily food diary to complete and detailed examples of basic stretches and exercises.