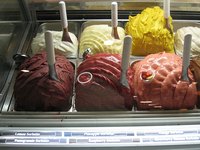 Gelato is a frozen Italian treat similar to ice cream. Originally, the ingredients used to prepare gelato varied throughout the regions of Italy. Traditionally, gelato found in Tuscany was made with milk, eggs and sugar while gelato found in Sicily was more likely to be created with water, fruit and sugar. Many gelato shops carry both versions of this treat to accommodate different palates and also offer soy-based and sugar-free versions.
Types
Some gelato are milk-based while others are soy- or water-based. The base changes the texture and flavor of the finished gelato as well as the nutritional content. In some shops, gelato made with Splenda rather than sugar is available to those who would prefer to avoid consuming sugar.
Flavors
Gelato is available in a variety of flavors including almond, apple, apricot, banana, black cherry, chocolate, cinnamon, coconut, coffee, creme brulee, custard, ginger, grapefruit, hazelnut, lemon, melon, mint, meringue, orange, panna cotta, peach, pear, pistachio, raspberry, rum raisin, spumoni, strawberry, tiramisu, vanilla, watermelon, white chocolate and many more.
Calories
Milk-based gelato usually contains 140 to 170 calories in a 3.5 oz. serving while soy-based gelato often has fewer than 150 calories per serving. A 3.5 oz serving of water-based gelato can contain as few as 100 calories and sugar-free varieties can be found at only 90 calories per serving. The calories in gelato vary depending upon the flavor and additional ingredients, such as fresh fruit or nuts.
Fat
Gelato typically has less fat than ice cream because gelato is not made with heavy cream. A 3.5 oz. serving of milk- or soy-based gelato varies between 3g to 6g of fat while water-based gelato is fat-free. A similar sized serving of premium ice cream may contain over 20g of fat with average fat content varying between 7g to 12g.
Carbs
Gelato is a high-carb food due to the amount of sugar. Fresh fruit also adds natural sugars. A typical serving of gelato can contain approximately 20g of sugar, with 30g to 40g of total carbs. Sugar-free varieties of gelato usually contain approximately 10g of carbs.
Allergy Information
Many gelato flavors include nuts so these flavors could cause a severe reaction for those with nut allergies. Customers with food allergies should ask about the preparation of gelato before buying to avoid any health problems.