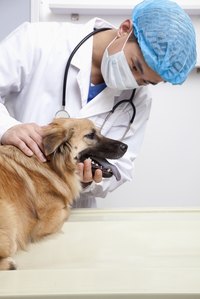 Ascites, the formal term for abdominal fluid retention, can result in obvious abdominal distention in serious cases. Ascites is a symptom of illness, not a disease, so your vet will conduct tests to diagnose the cause and determine a course of treatment. If you suspect your dog has abdominal effusion -- another name for ascites -- take him to the vet as soon as you can.
Ascites Signs
Ascites can result from disease or from abnormal physical functions. Fluid builds up between the abdominal wall and your dog's internal organs, causing swelling. In addition to abdominal distention, signs of ascites in dogs includes appetite loss, vomiting, diarrhea, fever, breathing difficulties, lethargy and weight gain. Your dog might appear uncomfortable when moving from a standing position to a prone position -- he might whimper or groan as he lies down.
Common Causes
Ascites is a primary symptom of some diseases and conditions that are life-threatening. These include congestive heart failure, abdominal bleeding, cirrhosis of the liver, hepatitis, bladder rupture, electrolyte imbalance, some types of cancer, kidney or gastrointestinal disease, and peritonitis. Bacterial infections can cause ascites, as can trauma. Depending on the diagnosis, the presence of ascites can indicate an animal's prognosis. In a 2009 article published in the "Journal of Veterinary Internal Medicine", researchers noted that the ascites in humans is a "well-recognized negative prognostic indicator," and the same held true for dogs suffering from chronic hepatitis.
Diagnostic Testing
To make a diagnosis, your vet will perform a physical exam, blood tests and a urinalysis. She'll also conduct ultrasounds and X-rays. Fluid will be taken via abdominocentesis, a procedure in which a needle is inserted into the abdomen to obtain a sample. The fluid is then analyzed, with culturing to follow if an infection seems likely. Additional tests might include an echocardiogram and endoscopy. With the latter, a tube with a camera is inserted into your anesthetized dog's mouth so your vet can view the abdomen. During endoscopy, the vet can biopsy samples from the gastrointestinal tract.
Ascites Relief
Overall treatment depends on your dog's diagnosis. It might include medication and surgery. Your vet can offer some initial relief from ascites by tapping the abdomen for fluid removal. If a bacterial infection is the culprit, your vet will likely prescribe antibiotics. She might prescribe diuretics to help your dog excrete fluid, but that can cause low blood potassium and requires careful monitoring. Your vet might recommend a low-sodium diet for your dog.