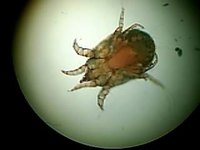 If you've ever seen scabies pictures, it may come as a surprise that this microscopic mite--sometimes called the "human itch mite"--can wreak such havoc once it decides to make your body the site of its new home. According to the Centers for Disease Control, while scabies infestations are more common in places where people live in close proximity--jails, college dorms, extended care facilities and even day cares--this parasite can infect anyone with whom it comes in contact.
The Scabies Mite
A human scabies infestation begins the moment when one impregnated mite meanders from one human to another. The scabies mite is too tiny to be seen with the naked eye; however, if you were to look at it under a microscope as presented in the picture above, an adult scabies mite would appear as a spherical, eyeless insect-like creature with four sets of legs. Adult females are only 0.30 to 0.45 millimeters long and between 0.25 and 0.35 millimeters wide, while male mites are only half that size.

Scabies Burrows
Once the female scabies mite finds a human host, she begins to create a "burrow" where she lays eggs to further exacerbate an infestation. In adults, scabies burrows are typically found on parts of the body where the folds of the skin touch--between the fingers or shoulder blades, inside the crook of the elbow and wrists, around the waist, under the breasts and around the male genital area. In children, scabies burrows are found on the neck and scalp area, as well as the palms and soles. Scabies burrows appear as slightly raised, serpentine (zig-zag) ridges that are pink or grayish in color.

Scabies Rash
A hallmark symptom of scabies is a red, pimple-like rash that erupts anywhere between two and six weeks after infestation, usually around the area of the scabies' burrows. The rash results in an annoyingly itchy condition known as pruritus that typically gets worse at night--this is because the mite's proteins cause an allergic reaction in your skin. However, while you're asymptomatic, you can still pass scabies on to others if you come into close physical contact with them. When adults get scabies infestations, it's usually the result of a sexual encounter.
Scabies Treatment
Scabies infestations are treated through use of a medication called a "scabicide" that usually contains either permethrin or crotamiton as its active ingredient. These lotions are applied to the entire body from the neck down, left on for a certain number of hours, and then rinsed off. However, to prevent reinfestation, wash clothing, bedding, towels, and other personal items in hot water and dry on high heat. Items that cannot be laundered may be stored in airtight containers and placed outside of the home for at least three days.
See Your Doctor
According to the CDC, no over-the-counter treatment has been proven effective against scabies. If you suspect that you have a scabies infestation--perhaps someone with whom you've had close contact has been diagnosed with an infestation--a self-diagnosis alone is inadequate to get rid of the unwelcome parasites that have taken up residence under your skin. You must see your doctor so that he or she can identify the presence of the mite and give you a prescription for medication that effectively treats scabies.