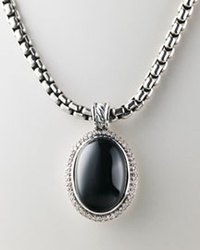 Onyx is a smooth type of quartz that is considered a semi-precious stone. Originally the term onyx referred to many varieties of onyx, including black, brown, white and striated. In the Victorian era, the word onyx came to mean black onyx only. Other kinds are now called sardonyx.
Origins
Onyx is a microcrystalline quartz called chalcedony, named for the ancient port Calcedon on the Sea of Narmara where it was first mined. Today onyx is mined in California, Brazil, Uruguay and India. Thousands of years ago, onyx was used to create handles or bases for items made of gold. Onyx also was inlayed with various kinds of stones. The Romans used onyx to create seals made of intricately carved layers. Cameo brooches were also often carved out of onyx. In 250 B.C., an onyx was chosen as one of the 12 stones in the breastplate of Aaron, a vestment made of gems.
Name
The Romans named a dark stone with white and yellow veins onyx--the Greek word for fingernail or claw--because the veins resembled fingernails. According to Greek and Roman mythology, Cupid used the point of an arrow to give the goddess Venus a manicure as she slept along the Indus River. As her cut nails fell into the water, they were magically transformed into onyx when they reached the bottom of the river.
Fashion
In the Victorian era, black onyx sales increased as mourning women scrambled to purchase black jewelry. Taking their cues from Queen Victoria, who was plunged into 40 years of mourning after the death of her beloved husband, women followed complex fashion rules that prohibited wearing colors of any kind. Black onyx was used as a substitute for more expensive jewelry made of jet. In the 1920s, black onyx became a popular gemstone in art deco jewelry designs. Black onyx has always been preferred for men's jewelry.
Superstitions
Many Persians and Indians believed the onyx possessed magical powers that would protect them from the "evil eye" and ease the pain of a pregnant woman during childbirth. Some believe onyx can help reduce sexual impulses, protect against negativity and promote romance and healthful relationships.
Symbolism
Onyx is the birthstone of those born under the astrological sign Leo. Onyx is also the gemstone for the seventh and 10th wedding anniversaries. Onyx can be found in many class rings, including Wells College, Vanderbilt University and the United States Military Academy at West Point.