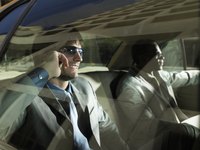 A sole proprietor reports business income and deducts business expenses on Schedule C, Profit or Loss From Business, of Internal Revenue Service Form 1040. The expense-related parts of the schedule are divided into general expenses, cost of goods sold, vehicle costs and other expenses. To qualify for using Schedule C, you must be engaged with continuity and regularity in a profit- or income-making activity. If your business does not make a profit in at least three of the last five years, the IRS can reclassify your activity as a hobby and disallow business deductions.
General Expenses
Use Part II of Schedule C to claim about two dozen different types of general business expenses. These include expenses for advertising, contract labor and wages, depreciation, legal and professional services, office supplies, rent and taxes. You can take up to $5,000 in deductions for your startup costs -- expenses you incur before your business actively begins -- on Schedule C, using a combination of the predefined deductions in Part II and other expenses you specify elsewhere on Schedule C. Your startup cost deductions decrease dollar for dollar when the costs exceed $50,000. You can amortize over a period of several years the startup costs you didn't deduct in the first year.
Wages and Payroll Tax
Deduct on Schedule C the wages and salaries you paid in the tax year, but do not include amounts you paid to yourself or deducted elsewhere. Also deduct money you paid for contract labor. Reduce the deduction by the amounts, if any, of employment credits. You can separately deduct employee benefit costs, including pensions and profit-sharing plans, accident and health plans, group term life insurance and dependent care assistance. You also deduct payroll taxes -- for Social Security and Medicare -- you paid to match your employee payroll tax withholding.
Health Insurance
Use Schedule C to deduct the costs you paid for employee health insurance. Reduce the health insurance deduction by any small-employer health insurance premium credits you receive. Claim these credits on Form 8941. If you are self-employed, deduct your health insurance costs in the adjustments-to-income section of Form 1040 instead of Schedule C.
Cell Phone Considerations
You can deduct the percentage of your cell phone bill that reflects business use. You can also deduct depreciation on business use of your cell phone over a seven-year period. Sole proprietors can deduct the costs incurred for providing employees with cell phones for business use. However, you must report any costs for nonbusiness use of these phones as a taxable fringe benefit to the employee.