Adequate iodine intake is necessary to maintain thyroid function and brain development. Inadequate iodine intake may cause thyroid problems, brain damage and mental retardation, according to the Linus Pauling Institute. Adults should consume 150 micrograms of iodine per day, but breast-feeding and pregnant women need more. Iodine is available as a supplement or can be obtained naturally by eating certain foods. Check with your doctor before using an iodine supplement.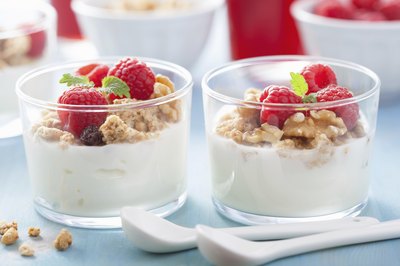 Iodine In Seaweeds
Seaweeds are high in iodine content as they grow in iodine-rich ocean water, although the amount can depend on where it is harvested. There is such a broad range in the iodine content of foods, including seaweed, that the USDA National Nutrient Database does not even include iodine in its nutrient breakdown.
A list of commonly consumed seaweeds and their iodine content per gram is published in a 2004 issue of Thyroid, and the content ranges from 16 micrograms in a 1-gram sheet of nori seaweed to over 8,000 micrograms in a 1-gram serving of fingered tangle granules.
The iodine content of a single sheet of seaweed can range from 16 to 3,000 micrograms, according to the National Institutes of Health Office of Dietary Supplements. If you purchase dried or powdered seaweed, check packaging for serving size and iodine content, if listed.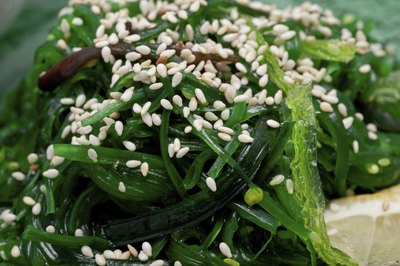 Seafood and Iodine
Seafood absorbs iodine from the saltwater it lives in, which gives it a particularly high iodine concentration. Cod contains some of the highest amounts of iodine, with 99 micrograms in a 3-ounce serving, while a 3-ounce serving of shrimp offers 35 micrograms. Any saltwater fish, such as tuna, perch and haddock, will contain higher levels of iodine.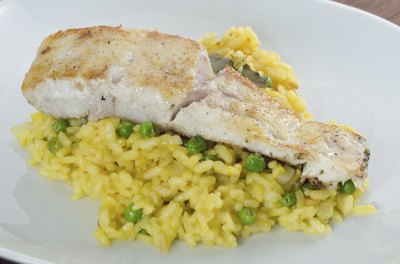 Eggs and Dairy Products
Dairy products can be a good source of iodine, but overall content depends upon several variables. A review published in 2013 in the Journal of Nutrition explains that iodine in dairy foods is often a result of added iodine levels in animal feed and cleaning agents that are used to treat milking equipment.
On average, a 1-cup serving of yogurt delivers 75 micrograms of iodine, followed by a 1-cup serving of milk with 56 micrograms and a 1-ounce serving of cheddar cheese with 12. Any product made with milk, including ice cream, will contain some iodine, although levels will vary.
The average iodine content in one large egg is 24 micrograms, but the content will also vary based on the iodine content in feed or whether the hen is free-range.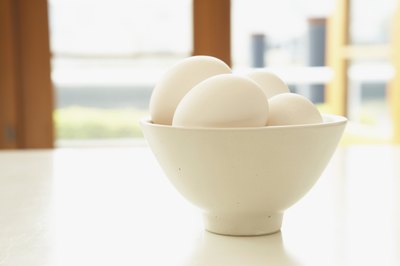 Fortified Foods, Fruits and Vegetables
Some foods are fortified with iodine, including salt, some breads and baby formula. Just 1/4 teaspoon of salt contains 71 micrograms, and a two-slice serving of enriched white bread has 45. Specialty salts, such as kosher salt and sea salt, are often not fortified with iodine, according to a report in a 2012 issue of the Journal of Nutrition. The amount of iodine in baby formula varies according to product and manufacturer. If you purchase baby formula, check the label for iodine content.
Fruits and vegetables can have traces of iodine, depending upon how much iodine is in the soil in which they are grown. A baked potato with the skin may contain roughly 60 micrograms of iodine, while a banana may have as little as 3 micrograms.