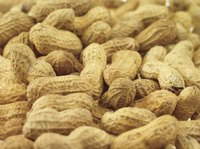 Manganese is a trace mineral found in your bones, liver, kidneys and pancreas. It boosts your energy by helping you metabolize fats and carbohydrates. You also need it to form connective tissue, bones, sex hormones and blood-clotting factors. Your brain and nervous system rely on it to function properly. It's easy to get sufficient manganese in your diet because it's found in whole grains, nuts and seeds. But if you consume too much manganese, it can interfere with iron absorption and build up in your body's tissue and brain, causing unwanted health consequences.
Symptoms of Toxicity
Manganese toxicity is relatively uncommon and is more of a concern among drug abusers, patients with liver disease and those who inhale manganese through their jobs, such as welders. You may be able to ingest more manganese through drinking water rather than food, making consumption of tap water a potential health concern. The neurological symptoms associated with manganese toxicity can take months or years to appear and are similar to Parkinson's disease. Symptoms include tremors, trouble walking, facial tics, irritability, aggressiveness and hallucinations.
Iron-Deficiency Risk
Iron and manganese are absorbed and transported in your body via the same pathways, resulting in a direct competition between the two. According to Dr. E. Blaurock-Busch, research director of the Micro-Trace Minerals Laboratory, chronic exposure to high manganese levels may result in iron-deficiency anemia. Symptoms of an iron deficiency include brittle nails, a sore and swollen tongue, frequent illness and cracks in the side of your mouth. If it progresses to iron-deficiency anemia, you may experience fatigue, shortness of breath, dizziness, headache, cold extremities, chest pain, weakness and pale skin.
Risks in Children
Children who consistently drink water containing high concentrations of manganese may develop cognitive and behavioral problems. A study published in 2006 in "Environmental Health Perspectives" examined 10-year-old children and discovered those ingesting higher levels of this nutrient had lower intellectual functioning scores. Children drinking tap water with elevated manganese have also been shown to exhibit more hyperactive behaviors.
Recommendations and Considerations
It is important to keep in mind that manganese toxicity through food or supplements is rare, and you are more likely to be deficient in this mineral. The upper limit has been set at 11 milligrams per day in adults. Studies conducted on children drinking tap water were performed outside of the United States. The Environmental Protection Agency has set the manganese level in drinking water to 0.05 milligram per liter; however, the 2006 study in "Environmental Health Perspectives" estimated that 6 percent of U.S. household wells exceed this limit.