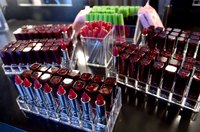 Maybelline New York is one of the world's top cosmetic companies. Over the years Maybelline has received international acclaim for its revolutionary cosmetic products. The company has received recognition from publications including "Allure," "Cosmopolitan," "Oprah Magazine," "Teen Vogue," "Woman's Day," "Siempre Mujer" and "Self." Its motto is the instantly recognizable "Maybe She's Born With It. Maybe It's Maybelline."
Company Information
Maybelline is a public company headquartered in New York, New York. The company is a subsidy of L'Oreal USA, Inc. In 2004 Maybelline officially changed its name to Maybelline New York. Since its founding, the company has grown to include around several thousand employees and approximately 1 million square feet of manufacturing and distribution space. According to the company website, Maybelline had become the No. 1 cosmetic company in the U.S. by 2000, and remained so in 2014; it's also the top seller worldwide. Its cosmetic products are sold both online and in various retail stores across the globe.
Company History
Maybelline was founded in 1915 by T.L. Williams. Since Williams' sister Maybel originally put forth the idea to create a product for darkening eyelashes, he decided to name the business after her. The company's first product was called Maybelline Cake Mascara. It came out in 1917 and was sold only by mail. By the 1930s, the company had increased its product line to include eye shadow and eyebrow pencils. With its continuing success, Maybelline cosmetic products were eventually made available in retail stores. During the 1970s, Maybelline would further expand its line to include lipsticks, nail polish and foundation. In 1996, the company was obtained by L'Oreal, USA Inc. from Schering-Plough Corp.
Products
Since the initial release of Maybelline Cake Mascara, the company's product line has grown significantly. Maybelline now offers consumers an extensive selection of cosmetic products. This includes foundation, concealer, blush, mascara, eyeliner, eye shadow, lipstick, lip liner, lip gloss and nail polish. Maybelline also manufactures a variety of cosmetic tools including brushes, applicators and makeup removers. Maybelline uses the latest technology when developing its products. Its products are made to produce effects that will create a specific look. Some products enable women to achieve a certain level of coverage, such as light, medium or full. Some will create a specific finish, such as matte, natural or shimmer. Other products include long-wear, age-minimizing or shine-control features.
Past Breakthroughs
Over the years, Maybelline has created a number of revolutionary cosmetic products. One of the company's earliest breakthrough products -- Ultra Lash Mascara -- made its debut in the 1960s. Before the 1960s, applying mascara was a messy process that involved squeezing the pigment out of a tube onto a brush. Maybelline's Ultra Lash Mascara was a progressive new mascara product that enabled the user to apply the darkening agent to the applicator brush directly from the tube without the mess. In the following decade, the company made another breakthrough. Maybelline released its new Great Lash mascara in 1971. This water-based formula delivered a much smoother application than the previous soap and pigment-based mascara. Great Lash mascara remains one of the company's most popular and top selling items.
Breakthroughs
In 2008 and 2009, Maybelline released a number of cutting-edge cosmetic products. One is Maybelline's Pulse Perfection mascara, which includes a vibrating brush applicator. Maybelline's Dream Liquid Mousse is a liquid foundation that uses an innovative whipped mousse formula. SuperStay 24HR Makeup and SuperStay 24HR Concealer provide extended wear and will not transfer onto other materials. In 2009, it became Official Makeup Sponsor of Mercedes-Benz Fashion Week in New York City, and in 2014, was sponsor of 13 fashion weeks.