Your body can't make some omega-3 and omega-6 fatty acids, so you need to get them from your diet. These fats make up part of your cell's membranes and help regulate gene activity, and they also have several separate functions in your body. Include sources of omega-6s and omega-3s in your diet to boost your health, but focus on omega-3s to maintain a healthy omega-3-to-omega-6 ratio.
Sources of Omega-3
There are many health benefits of including more omega-3 fatty acids in your diet. For example, it may lower the risk of some cancers and Alzheimer's disease. Also, those who eat more omega-3 fatty acids have a lower risk of heart disease. The American Heart Association recommends eating at least two servings of fish each week. Types of fish high in omega-3 fatty acids include herring, salmon, sardines, mackerel, oysters and tuna. Other good sources include flaxseeds, walnuts, chia seeds and canola oil.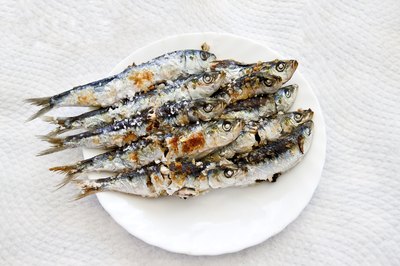 Sources of Omega-6
Although omega-6s are also essential fatty acids, you're probably already getting plenty from your diet. Some omega-6 fat is found in meat, eggs and fish. It is also in vegetable oils such as soybean, safflower, cottonseed, sunflower and corn oil. Nuts are another good source, especially pine and Brazil nuts as well as pecans. Cooking with different types of oils and snacking on trail mix made with nuts high in omega-6 are good ways to add it to your diet.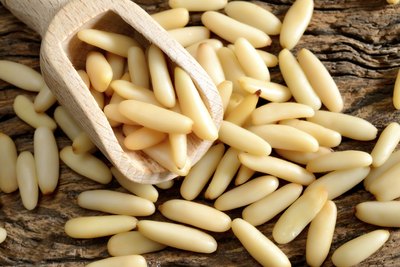 Foods With Omega-3 and Omega-6
Flaxseed and flaxseed oil are very high in omega-3, but they also have a small amount of omega-6. Try adding 1 or 2 tablespoons to your yogurt or hot cereal. Canola and soybean oil are two other examples of foods that have both omega-3 and omega-6. Walnuts are also a rich source of omega-3 and omega-6. Other nuts -- such as pistachios, dried pine nuts, pecans, cashews, hazelnuts and peanuts -- are high in omega-6 but have small amounts of omega-3.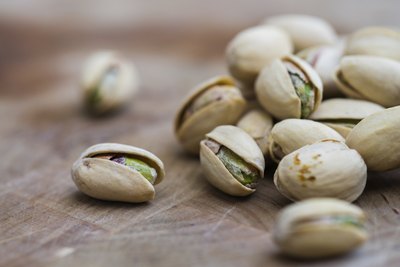 Balancing Your Omega-3 and Omega-6 Ratio
Experimental Biology and Medicine published research in June 2008 that compared the amounts of omega-6 and omega-3 fatty acids subjects ate and their risk of developing diseases like heart disease and several types of cancers. The researchers found that subjects who ate an equal amount of omega-6 and omega-3 fatty acids had lower risk of developing disease. The typical Western diet has about 15 grams of omega-6 for every 1 gram of omega-3. Eating more fish and less red meat is one way to help correct this ratio.