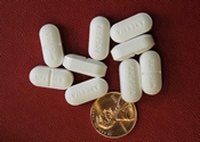 Hydrocodone (also known as dihydrocodeinone) is a commonly prescribed drug from the opioid family and is used to alleviate moderate to severe pain symptoms. It also acts as a strong cough suppressant. Hydrocodone is only available in the United States with a valid prescription from a licensed doctor. Most commonly, hydrocodone is administered orally via pill or liquid form, but can also be taken intravenously or through a nasal spray.
Types
Hydrocodone, when sold in the United States, is always combined with another analgesic. Analgesics increase the effectiveness of hydrocodone without increasing the negative side effects related to opioids (nausea, constipation, sedation). Vicodin and Lortab are common trademarked brands that contain hydrocodone and the analgesic acetaminophen. It can also be found under the trademark names Dicodid, Norgan, Hydrokon, Orthoxycol and Lorcet.
Effects
Hydrocodone is used to effectively treat moderate to severe pain symptoms and heavy coughing. Occasionally adverse side effects are associated with this treatment. Most common are drowsiness, dizziness and nausea. Less common (and potentially more dangerous) side effects include constipation, slowed or irregular breathing, anxiety, vomiting and difficulty urinating. If any of these symptoms occur, it is recommended by the American Medical Association to seek immediate advice from a physician.
Before Taking
Before taking hydrocodone, talk to your doctor about any allergies you may have or if you suffer from any of the below:
asthma
COPD (Chronic Obstructive Pulminary Disease)
liver or kidney disease
a history of head injuries or brain tumors
low blood pressure
a stomach or intestinal disorder
Discuss with your doctor if you consume more than three alcoholic beverages per day. You may not be able to take medication that contains acetaminophen, which is commonly combined with hydrocodone prescriptions.
Potential for Overdose
The symptoms of overdose may include extreme drowsiness, sweating, nausea, vomiting, dark urine, jaundice, confusion, cold and clammy skin, muscle weakness, fainting, weak pulse, slow heart rate, blue lips, shallow or no breathing.
It is recommended by the American Medical Association to seek immediate medical attention if you feel you may have used too much hydrocodone. An overdose of hydrocodone can be fatal.
Addiction
According to the federal Drug Enforcement Administration, hydrocodone may be the most abused prescription drug in the country. In the last decade, abuse has quadrupled, while trips to the emergency room for hydrocodone-related abuse increased 500%.
Many medical experts believe that dependence or addiction can occur within one to four weeks at high doses.
A person in any age group can become addicted. If you believe you or someone you know has an addiction to hydrocodone, there is help. Talk to your doctor, or seek out a professional organization such as Narcotics Anonymous.