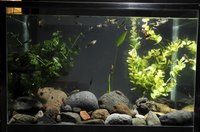 Because day length influences a variety of biological processes, you should provide most pets -- including fish -- with a natural diel cycle. This means providing them with not only the appropriate amount of daylight, but also with sufficient darkness. While some species and individuals may learn to adapt to constantly lit conditions, most are likely to suffer. Nocturnal species may even fail to eat if not provided with regular nightfall.
Automation of Illumination
The best way to provide a consistent day-night cycle is to plug the aquarium lights into a lamp timer. Try to provide your pets with about 10 to 12 hours of light per day. However, if you wish to incorporate live plants in the aquarium, you may need to provide up to 14 hours of light each day to ensure good plant health.
Sunrise and Sunset
Avoid sudden changes in light if possible, as these may startle fish or provoke unusual behaviors. A great way to do this is by setting up multiple timers, so that one set of lights turns on or off about 5 minutes before the others. Alternatively, you can turn on lights in the room before turning on the aquarium lights, to moderate the transition between bright and dark conditions.