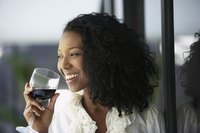 No scientific evidence supports the idea that you need to detoxify, but plenty of people follow detox diets in hopes of reaping alleged benefits such as increased energy, weight loss and improved appearance. Following a detox diet usually requires abstaining from caffeine, processed foods and alcohol. These foods can cause inflammation, which often makes you feel fatigued and may lead to the early development of heart disease and Type 2 diabetes and aggravate autoimmune conditions and arthritis. Detox diet advocates also claim these foods put a strain on organs designed to detox the body, particularly the liver. If you stray from a detox plan and indulge in an occasional glass of wine, the effects will likely be minimal. The inability to give up alcohol altogether or bingeing on it regularly could signal a problem, though.
A Glass Here and There
How impactful a glass of wine is on your detox depends on your intentions. If you're detoxing to identify food intolerances, even a single glass of wine can muddy your ability to determine which substances are really causing you problems. A healthy detox diet designed around whole foods followed with the intention to feel better and rid your body of impurities won't be ruined by a little wine every now and then. If you're sticking to the other aspects of your detox, you'll still feel energized by all the whole, unprocessed foods you're consuming. Wine may interfere with the possible weight-loss benefits of a detox, though, by adding extra calories and lowering your resolve to stick to your detox plan.
Be Wary
If your plan asks you to give up wine, but you find you can't, it may signal a substance abuse problem. Drinking in excess can cause long-term problems for your liver, heart and brain. Even a one-time wine binge can inhibit your immune system, undoing a lot of the health benefits provided by the positive dietary changes you make during a healthy detox. Your liver, a primary detoxifying organ, can also become overwhelmed if you consume more than 1 ounce of liquor, or a standard drink, an hour. If you drink more than this, the liver can't metabolize the alcohol right away, and the extra is stored in your blood and body tissues, which could interfere with your intentions to detoxify. Too much of any type of alcohol, including wine, over time can lead to inflammation and disease of the liver.